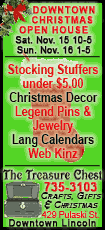 Another factor was a 5 percent drop in Disney's studio entertainment revenue to $1.45 billion from $1.53 billion a year ago.
"Consumer confidence is the lowest we've seen in over three decades, and even the best product out there is feeling the effect," Chief Executive Robert Iger told analysts on a conference call.
"While we have great demand in the marketplace, we believe consumer spending will be down," he said. "That could impact us possibly during the holiday season but almost certainly during calendar season 2009."
Disney shares slipped $1.31 in after-hours trading to $21.50. They closed Thursday at $22.81, down 5.9 percent, or $1.42.
Net income in the quarter that ended Sept. 30 fell to $760 million, or 40 cents per share, from $877 million, or 44 cents per share, a year ago.
Revenue grew 5.8 percent to $9.45 billion from $8.93 billion.
Adjusted earnings came to 43 cents per share, up from 42 cents.
Analysts, who typically exclude one-time items, on average expected Disney to earn 49 cents per share on revenue of $9.3 billion, according to Thomson Reuters. Among the one-time charges that hit net profit was the creation of the cash reserve, which amounted to 3 cents per share.