The YMCA, Christian Child Care, Humane Society, Lincoln Jr. High PTO, Lincoln Park District and Hundman Lumber in Close Up
By Mike Fak
[November 06, 2008] Congratulations to the YMCA
They were the winners of October's Close Up grab bag and we will be sending them out a check for $25.00 to help with their great programs. Don't miss out on getting the word out on your great club, church or cause. All you have to do is give us the good word and we will do the rest.
---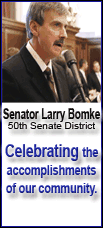 Volleyball clinic
The Lincoln Area YMCA will be having a free clinic for girls in 5th - 8th grade on Tuesdays, November 18 and 25 from 7:30-8:30 P.M. at the YMCA Activity Center (719 Wyatt Ave.). This will be a great opportunity for your daughter to sharpen her volleyball skills prior to the local school volleyball tryouts. This clinic will be hosted by the YMCA Volleyball Instructor, Krista Hoban. We must have at least 10 participants to hold this event; therefore we need all parents to contact the YMCA at 735-3915 to reserve their daughter's place.
---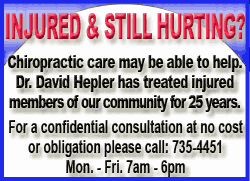 ---

Christian Child Care's push for literacy
Christian Child Care is celebrating November with a push for literacy. They are holding their first Breakfast with Books on Tuesday, November 18th. The public is invited along with their parents and grandparents to read with their children. CCC will have sweet rolls, coffee and juice for all! The Scholastic Book Fair will be there with books to purchase and they will have special readers invited to read. It is important to introduce books to children from birth. Reading helps develop language, promote bonds and build cognitive learning. The more you introduce to a child in the early years can help them prepare for academic learning. Reading is a great way to construct knowledge and understanding of the world. If you haven't visited Christian Child Care before, this is a great time with all our fall decorations and the wonderful paint job done during Together for Lincoln. If you would like more information, contact Coleen Moore, director, at 732-5750.
---

Doggie pictures with Santa available
Humane Society will be having a "Paws with Claus" photo shoot on November 8th from 9a-1p, at Big R in the Heritage Plaza. The following week, the 15th, at Big R, they can pick up their photos from 9a-1p, and there will be a bake sale too.
---

Lincoln Jr. High PTO
The PTO is having a Pancake & Sausage Breakfast at the Junior High this Saturday, November 8th. Tickets are only $5.00 and are available at the door. The time is 7:00 am till 1:00 pm.
---

Important Park District notes
It's that time of year again, and that means basketball season. Junior Railer sign-ups are going on right now. Grading to place teams will be this Saturday, November 8 in the Sports Center. Coaches meeting and team draft will be Tuesday, November 11 at the Park District. The players should hear from their coach shortly after that. The season will start on Saturday, December 6 and run through February.
As winter approaches it is a great time to check out our membership possibilities at the Lincoln Park District. Working out with co-workers can be a real motivator. Sometimes just making a commitment to a friend is all it takes to keep each of you motivated. Did you know the park offers discounts for businesses that have five or more sign up for a one year membership? This can result in saving 10% on an in-district membership for each member who joins. Contact Christine and find out how you and your employer may qualify for this program. The Park District's number is 732-8770.
---

Win Christmas shopping spree
Hundman Lumber Company is offering a $1000 shopping spree just in time for the holidays.
The drawing is open to everyone over the age of 18 with no purchase necessary. You also can sign up for the drawing once every day to increase your chances of winning.
This is a drawing just for the Lincoln store so your chances of winning are really good.
The winner can pick items out of a 146 page catalogue filled with power tools, building supplies, and many other items. Don't forget to stop by Hundman and register to win. The winning ticket will be drawn on Nov 26 and you need not be present to win.
---
Got a good piece of news, information or something that we can all brag about? If you do e-mail Mike and let us tell everyone about it. Plus you can win cash. Every submission, whether we use it or not, will get your name in the "Close Up" grab bag. At the end of the month we will draw a name and someone will get $25.00 just for dropping us an e-mail. If you wish, we will be happy to donate your winnings to the organization of your choice.
You can contact Mike at mikefak@lincolndailynews.com.
[By MIKE FAK]