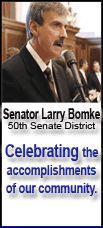 The results were a bright spot in what was a dismal month for most restaurant operators. Many sit-down chains have reported steep declines in same-store sales during October as consumers grew more anxious about the possibility of a prolonged recession.
But U.S. consumers kept spending at McDonald's, even as Congress passed a bill to bail out the economy and credit markets froze.
Same-store sales rose 5.3 percent in the United States, helped by new menu items, including the Southern Style Chicken sandwich, and continued demand for breakfast items. The company's popular Dollar Menu and its annual Monopoly promotion also drew in value-hungry consumers.
"McDonald's strong October sales show that we are delivering what customers count on from McDonald's -- choice, variety and high-quality food and beverages at affordable prices," Chief Executive Jim Skinner said in a statement.
Same-store sales rose 9.8 percent in Europe and grew 11.5 percent in the Asia-Pacific, Middle East and Africa region. Demand was particularly strong in Australia, the company said.
Same-store sales are a key indicator of restaurant performance since they measure growth at existing locations rather than newly opened ones.
The nation's No. 1 hamburger chain said total sales rose 5.4 percent during the month.
Wall Street analysts had been concerned that a stronger dollar in October might inhibit sales increases. Chains translate their sales overseas into dollars so for a company like McDonald's, which has a large overseas presence, shifts in the strength of the dollar can lead to skewed results.
But most analysts said the stronger dollar seemed to drag on sales only slightly.
Goldman Sachs analyst Steven Kron said in a note to investors that business momentum at the chain is "overpowering" any shift in the strength of the dollar.