Deer population on the move
Tips for motorists to stay safe

Send a link to a friend
[November 13, 2008] SPRINGFIELD -- Have you ever been traveling on a peaceful fall morning or evening when, suddenly, a deer runs into the path of your vehicle? If this hasn't happened to you, it might. This scenario will be repeated hundreds of times throughout Illinois State Police District 9, which encompasses seven counties: Cass, Christian, Logan, Mason, Menard, Morgan and Sangamon.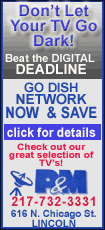 "I would like to remind motorists to use extra caution while driving in the next several months, as our district will see hundreds of car-deer crashes," said Capt. James Wolf, District 9 commander. "Because of the recent daylight saving time change, a larger portion of our day will be spent driving in the dark, and this increases our risk of being involved in a traffic crash."

Throughout the state of Illinois, over 20,000 deer are involved in traffic crashes on an annual basis. To help the public better prepare for the fall season, Wolf reminds motorists of several safe driving tips:
Don't swerve. Most serious crashes involving deer are the result of evasive maneuvering by drivers attempting to miss the deer. This can result in head-on collisions with another vehicle or fixed objects, which can cause extensive injuries or death. Striking the deer may severely damage the automobile, but the occupants typically remain uninjured.

The best response for avoiding a deer or other animal is to steer or brake while remaining in your traffic lane or shoulder. Further evasive maneuvers can result in serious injury.

Expect to see more deer during this time of year in low-lying areas, wooded areas close to roadways and cultivated fields.
With the holiday season approaching, Wolf would like you to arrive safely at your destination. "Slow down; be alert; don't drive distracted; buckle up; and don't drink and drive," he said.
[Text from file received from Illinois State Police District 9]