Jeff Hills has been hired as Vice-president of Development for Christian Homes, Inc.

Send a link to a friend
[November 13, 2008]- Hills will oversee the Office of Development, which is responsible for raising funds for the ministry of Christian Homes.
After serving 19 years as vice-president of marketing and sales for Syst-A-Matic Tool and Design Company in Meadville, PA, Hills graduated from Lincoln Christian College and Seminary in 2007. While earning a degree in general ministries, Hills was selected as the LincUp honor student for the class of 2007.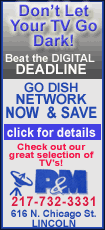 "Hills comes to us at a crucial time," noted CEO Tim Phillippe. "A growing number of older adults are unable to pay for the skilled nursing care they need. "We rely on gifts from our donors to assist our residents who can no longer pay for their care. Christian Homes is committed to allowing residents to remain in our skilled nursing facilities, regardless of their ability to pay."

Christian Homes, headquartered in Lincoln, has been a leader in Christ-centered services to senior adults since 1962. The company employs a staff of 2,400 and provides independent and assisted living, rehabilitation therapy, dementia care and skilled nursing care to more than 2,500 older adults at 14 senior living communities in Illinois, Indiana, Iowa and Missouri.