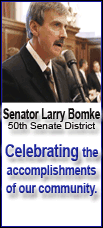 Investors were also nervously waiting to see whether the nation's troubled automobile industry would get a bailout. Senate Democrats, who plan to introduce legislation Monday, want to use part of the $700 billion Wall Street bailout to help prop up Detroit's Big Three carmakers: General Motors Corp., Ford Motor Co. and Chrysler LLC. A vote was expected as early as Wednesday.
In the meantime, the market will be assessing third-quarter results from retailers Target Corp. and Lowe's Cos. After last week's Commerce Department report showing a 2.8 percent decline in retail sales for October, investors are not optimistic about the health of the average consumer.
Last Friday, Wall Street ended a turbulent week with a loss, hurtling the Dow down nearly 340 points. For the week, the Dow finished down 5 percent; the S&P 500 index sank 6.2 percent; and the Nasdaq plunged 7.9 percent.
Ahead of the market's open, Dow Jones industrial futures fell 71, or 0.85 percent, to 8,300. Standard & Poor's 500 index futures fell 4.70, or 0.55 percent, to 856.80, while Nasdaq 100 index futures fell 7.50, or 0.65 percent, to 1,148.00
.
In economic data, the government at 9:15 a.m. Eastern time will release its October reading on industrial production. The median estimate by economists surveyed by Thomson/IFR is an increase of 0.2 percent after September's drop of 2.8 percent.
Leaders from members of the Group of 20 nations met in Washington Friday and Saturday. They made no concrete plans to try to resolve the global financial crisis, but they did pledge to keep working together to provide loans to financial institutions. The leaders also agreed to reform the International Monetary Fund and the World Bank to give developing nations a stronger say, and to refrain from erecting trade barriers for the next 12 months.