Library notes

Send a link to a friend
[November 19, 2008] The Lincoln Public Library is located at 725 Pekin St., with adult nonfiction and reference materials in the historic Carnegie Building. In the Annex Building, directly behind, are adult fiction and the Youth Services Department. All library events are free and open to the public.
Library hours are Monday, Wednesday and Friday, 9 a.m.-5 p.m.; Tuesday and Thursday, 9 a.m.-7 p.m.; and Saturday, 9 a.m.-1 p.m. Phone numbers are 217-732-8878 for adult services and 217-732-5732 for youth services. Visit on the Web at www.lincolnpubliclibrary.org.
Live Homework Help
Log on to www.lincolnpubliclibrary.org to get help from a live tutor. The one-on-one help is available to kindergarten through adult learners in math, science, English, social studies and writing. Use your Lincoln Public Library card number to enter.
The library's annual evening of entertainment and stories will be from 6 to 7 on Thursday in the Annex. The event will begin with a performance by the library's readers' theater group of 8- to 12-year-olds. They are preparing to perform "Rumplestiltskin, Private Eye" and "The True Story of the Three Little Pigs." The library again welcomes its "Leader Readers" from the community, who will entertain families of all ages with their performance of a favorite story of their choice. This is a "warm and fuzzy" event for families to enjoy as we prepare for the long evenings that come with the approaching winter. Please call 732-5732 to register.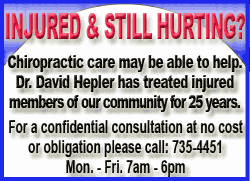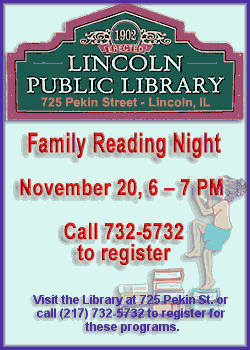 There will be two opportunities to visit with Santa Claus in a warm place with a short line. His reindeer will bring him to the Annex on Dec. 2 and 9, 5-6:30 p.m. Finish up your list and be on your good behavior, and Santa will offer you a candy cane. The library will provide a free Polaroid photo on Santa's lap and an opportunity to write and mail a letter to the North Pole to "follow up" on your visit. Mom and Dad are welcome to bring their own camera to take lots of pictures of this important event. Please call 732-5732 to register so that enough supplies are on hand.
Holiday hours
The Lincoln Public Library will be closed on the following dates for the holiday season:
Nov. 27 -- Thanksgiving Day

Dec. 24-25 -- Christmas Eve and Christmas Day

Jan. 1, 2009-- New Year's Day
Upcoming events
Check back for information on upcoming events, such as the Teddy Bear Picnic in January and the winter session of children's Story Times, beginning in February.
[Text from file received from Marlene Perry, Lincoln Public Library District]