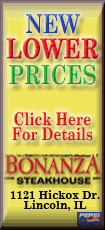 How much more important it might be to celebrate the works, accomplishments and influence of a life well-lived right here in our community. It is with that sentiment that we present Emil Stahlhut to you to honor today. At age 90 Emil has passed from this life to receive his eternal reward for a life of kindness, generosity and caring.

If you had ever met Emil Stahlhut, you would remember it. He was a gentle-mannered and a well-spoken man who always had a twinkle in his eye. He had a sense about him, an aura, a way of drawing people to him that truly set him apart.

Stahlhut was most influential in establishing the high standard of health care that we still realize in Lincoln and Logan County today. He steered the hospital through many modernizing changes. He helped bring about both the Family Medical Center and the Logan County Department of Public Health. Stahlhut stayed close and involved in the community through a number of groups, often taking leadership roles in them as well. And he was a dedicated family man, which included some 200 foster children that he and his wife, Jane, brought into their lives over the years.
It is to our benefit to reflect on the life of a genuinely remarkable person such as Emil Stahlhut. It doesn't matter if you knew him well or just were acquaintances. It doesn't matter if you never met the man at all. What Emil did for this community, for all of us, is something we should all accept with gratitude and thanksgiving in that he chose to live and work in our community and improve it.
Below you will find two accounts of Emil Stahlhut's life. These, along with his list of accomplishments, do more to honor him than our meager words could ever do. In fact they speak volumes for all that this man meant to this community.
The first archived document is from the Lincoln Daily News column "A Day in the Life" in December of 2000. The second entry is an excerpt from his obituary.
[By LDN staff]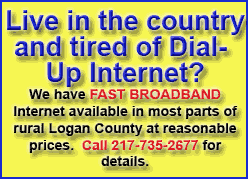 ALMH's 1st administrator
Emil Stahlhut helped Lincoln reach excellence in health care
Before Emil Stahlhut and his wife, Jane, came to Lincoln in May of 1953, they hadn't stayed anywhere longer than three or four years. Emil had served in the U.S. Army in World War II, earned a degree in a new field, hospital administration, and worked in this new profession at three different Midwest hospitals. But when they got to Lincoln the Stahlhuts put down roots, and not only Abraham Lincoln Memorial Hospital but the entire Lincoln community has reason to be grateful.
Emil came as CEO of the old Deaconess Hospital, specifically to oversee the merger of Deaconess with the new Abraham Lincoln Memorial Hospital. Deaconess, located at the corner of Eighth and Maple streets (on what is now a parking lot), had opened its doors in 1902.
Before World War II, the Deaconess board had started planning to expand the hospital, but during wartime no new building projects were possible because all of America's resources were needed for the war effort. But in 1948, with the Hill-Burton Act, federal money became available to build hospitals in rural areas. The Deaconess board set out to hire a professional administrator, one who had education and experience. Emil Stahlhut met all their qualifications.
Abraham Lincoln Memorial Hospital, with Emil at the helm, opened on April 8, 1954, with a maternity ward, a surgery ward and 100 beds. And instead of staying three or four years, Emil stayed for 30, retiring in 1983 after a career that brought the Lincoln area a level of excellence in health care not always found in a small rural community.
Emil was born on a farm in Madison County. After graduating from Edwardsville High School, he went to Elmhurst College in Elmhurst. There he met Jane Sherman of Oak Park. They were married in 1941, and he was drafted into the U.S. Army in 1942, after he had finished all the work for a master's degree in social work except for his thesis.
"The Army didn't know what to do with a social worker, so they put me in the medical department," he says. He became a captain in the Medical Administration Corps, and, he remembers, "by the time I got out of the Army I had been in the medical field longer than in social work."
A new field was opening up, and Emil was interested, so he got a degree in hospital administration at Northwestern University in Evanston. He served as a medical administrative officer at Hines Veterans Hospital in Maywood, then went to Mount Sinai Hospital in Chicago as assistant administrator. After that, the Stahlhuts went to Maquoketa, Iowa, where Emil opened a hospital. They stayed for three years, then came to Lincoln.
When he became the administrator at Abraham Lincoln Memorial Hospital, Emil "did it all," says David Sniff, his first administrative assistant. "From the opening of the hospital until 1963, when Jim LaMothe became the first fiscal officer, Emil did everything, from payroll to ordering supplies and drugs to the finances -- whatever had to be done," Sniff recalls. "He was very disciplined, very hardworking." (Sniff himself came on board in 1974, left in 1980, then came back in January of 1983, when Emil retired, and stayed until 1995.)
From 1955 until 1964, the old Deaconess Hospital had served as a nursing home. But, Jane Stahlhut remembers, the old building was "just worn out." The decision was made to build a 100-bed addition to ALMH to become a long-term care facility. "That was Emil's project all the way," Sniff says. "He had the help of a professional fundraiser, but he oversaw the project while he continued to run the day-to-day business of the hospital." The new unit opened in October of 1964.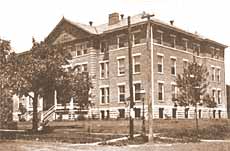 In 1966, 52 of the 100 beds were designated hospital beds. By 1981, because of Medicare funding ceilings and other cost considerations, ALMH discontinued extended care service.
According to Emil (and to many of those who know him), one of the highlights of his career was assisting doctors to form a medical group. "Doctors were the last bulwark of independent entrepreneurs," he says. "They didn't want to join a group." But encouraged by Emil and his board, they began to see the advantage of combining their practices, and in 1972 many doctors who had once practiced alone joined to form the Abraham Lincoln Medical Group, with offices in ALMH.
The medical group was "the way of the future," Sniff says. "Emil saw that the only way to attract new physicians to a small town was to have an organized group. That way doctors could provide relief for each other and also share professional concerns about patients. Physicians coming out of residency were looking for that. It was the only way to get new young physicians to come to a rural area."
"Emil was ahead of his time," says Bob Albert, an old friend and fellow Rotary member, who has also served on the ALMH board. "He was far advanced in knowledge of what was going to happen in the future in the field of medicine. He was well ahead of other administrators, even those in bigger hospitals. He was aware of programs that could provide government money to benefit the hospital, and he applied for these funds early on."
Albert also remembers that Emil had the respect of his peers throughout the state. "When I was going to hospital functions and meetings at the state level, wherever administrators were gathered, people would say, 'You're lucky you have such a fellow as Emil running your hospital.'"
Sniff agrees that the ALHM administrator was very well-respected in the industry. "Emil was a member of the Illinois Hospital Association board of trustees for several years. He was also on the Illinois Department of Public Health hospital licensing board, an appointment by the governor's office. Those are prestigious positions. I'm sure he had opportunities to go elsewhere and chose not to. He found satisfaction in what he did and the people he worked with," Sniff says.
"A lot of very positive things happened as a result of the formation of the Abraham Lincoln Medical Group," says Jim White, manager of the outpatient pharmacy at ALMH. The medical group brought together doctors who had been practicing alone to practice together at ALMH. (Later the doctors' group moved out of the hospital and became the Family Medical Group.)
"It provided the base to attract new talent and helped us get specialists to come to our small, rural community. In the early days, if a patient wanted to see an orthopedic surgeon or a dermatologist, that patient would have to go to a bigger city. With the group, different specialists found it was worth their time to come here once a week to see patients. This was especially good for older people.
"Also, because of the formation of the group, we had physicians on-site and had 24-hour coverage in the emergency room. Early on, Emil saw that a hospital needed that. And Emil, Dr. Gene Blaum and James Strickland were instrumental in setting up a very progressive, well-trained paramedic system," White explains.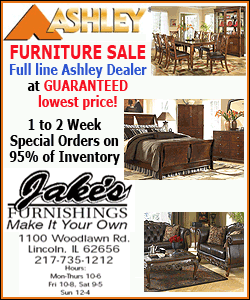 "In the early days, paramedics were employees of the hospital. When not giving care at the scene, they worked in the emergency room. But even though they are no longer part of the hospital, the standard of excellence of the paramedics in Lincoln and Logan County is still alive and well. If you go to other communities and assume you will find the same level of expertise, you may be disappointed. The standard was established in Emil's time, and today we still enjoy that standard as a community."
Another example of Emil's farsightedness was establishing the outpatient pharmacy. ALMH had an inpatient pharmacy to provide medications for patients in the hospital but no facility to provide prescriptions for outpatients. "A lot of hospitals have done that in the last 10 years," White says, "but we started ours in 1972. It was one of the first in central Illinois."
Emil tapped White, who was working for the Kroger Family Center, overseeing 27 pharmacies in seven states and traveling 1,000 miles per week, for the job of setting up the new pharmacy.
"In those days we didn't talk about job descriptions. It was: 'Here it is. You set it up and operate it.' Emil was an administrator who could delegate responsibility. It was a skeleton operation at first, only one small room, but it had a window in the waiting room of the medical group so people could get their prescriptions right after they saw their doctors.
In retrospect, I'm amazed at his ability to pick people," White says. "He was a genius at picking the right people for the job. There are still a lot of people at ALMH that Emil hired. And they stayed. One woman worked in the lab for 35 years, another in medical records for 40."
Jean McCue is proof of his ability to pick the right people and to keep them. She got acquainted with Emil when she was helping with the fundraising campaign, typing 3-by-5 cards. "I was supposed to work for two months. I stayed there for 30 years and loved it," she says.
"When Emil realized I knew a little about journalism, he asked me to start the hospital publication," she recalls. "When I started, I wondered how I could fill up four pages. When I left, the bimonthly newsletter was 16 pages." Later McCue became director of volunteer and special services, and then director of marketing and development.
"Emil was a great boss," she said. "He made employees feel like family. He really cared for the people who worked for him.
"He knew firsthand about the changes in health care, and he kept employees informed about what was going on in the industry, with regular meetings. He was always aware that for a small hospital to survive, it was important to keep up with the new technology."
Emil also counts among his accomplishments helping to support the establishment of the present Logan County Health Department. He had served on the Logan County Board of Health and saw the need for a department that had its own tax levy.
"Mr. Stahlhut was one of an active group of citizens who were responsible for obtaining the support necessary to establish the health department by referendum in 1970," says Lloyd Evans, present health department administrator.
"This helped give us the financial support that has allowed the health department to provide the wide range of service Logan County citizens enjoy today, such as immunizations for children and adults, WIC (maternal and child health programs) home-health nursing, and environmental health services designed to protect the public.
"He also helped form the mutually supportive relationship that exists between the hospital and the health department today," Evans says.
"It's hard to think about our community now without the health department," Emil comments.
[From Lincoln Daily News archives of Dec. 7, 8, and 9, 2000, A Day in the Life, by LDN writer Joan Crabb]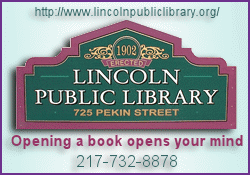 Obituary excerpt
Emil Stahlhut, 90, of Lincoln
Mr. Stahlhut was the administrator of Abraham Lincoln Memorial Hospital until he retired in 1983.
He was a U.S. Army veteran.
He was born Feb. 2, 1918, on a farm in Madison County to Paul and Ida Holt Stahlhut. He married Jane Sherman on Feb. 14, 1941, in Oak Park.
He is survived by his daughters and sons-in-law, Carolyn and Gerald Frank of Springfield, Barbara Thake-Noel and Bill Noel of Bloomington, Margaret "Peggy" and Mike Webster of Champaign, and Mary and Bob Shattuck of Lincoln; six grandchildren, Dr. Mary Beth Thake of Seattle, Wash., Nathan Frank of Naperville, William Thake of Robbiate, Italy, Craig Shattuck of Detroit, Mich., Emily Shattuck of Bloomington and Maggie Shattuck, Lincoln; and two great-grandchildren, Madelyn and Jonah Frank.
He was preceded in death by his wife; his brother, Herbert; a son-in-law, Melvin Thake; and a granddaughter, Marjorie Thake.
Emil graduated from Edwardsville High School in 1935 and from Elmhurst College in 1939. He went to Northwestern University to study social work but was drafted into the U.S. Army before he could complete his degree. He served in the military for four years and became a captain in the medical administration corps in North Africa and Italy. Following his military service, he completed his master's degree with an emphasis in the new field of hospital administration.
He served as a medical administrator at Hines Veterans Hospital in Maywood and as an assistant administrator in Mount Sinai Hospital. In 1950 he opened a new hospital in Maquoketa, Iowa, and served as the first administrator at that hospital.
In 1953, he was recruited by the Deaconess Hospital board in Lincoln to oversee the building of the new Abraham Lincoln Memorial Hospital and merge it with the old Deaconess Hospital. During the 30 years that he was CEO, he oversaw many changes in health care, including the advent of personal health insurance and of Medicare and Medicaid.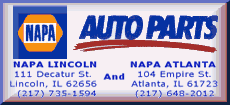 He was considered ahead of his time when he encouraged doctors who had been practicing independently in the area to come together and have a joint practice (a precursor to the Family Medical Group) at ALMH. This allowed Lincoln to recruit new doctors and made it possible for specialists from larger hospitals to come to Lincoln weekly to see their patients.
He also started the 24-hour emergency room, the hospital-based ambulance and paramedic system in Lincoln, the hospice program, the Logan County Mental Health Clinic and the Logan County Health Department.
From 1967 to 1983 he wrote a weekly health care information column for the Lincoln Courier.
He was on the board of trustees of the Illinois Hospital Association for several years, the executive committee of the Central Illinois Health Planning Council and the licensing board of the Illinois Department of Public Health. He was a Fellow in the American College of Hospital Administrators.
He was a Lincoln Courier Man of the Month in 1957.
He was a member of the Lincoln Rotary Club, where he was a past president and for many years in charge of the citrus sale. He was also a member of the Lincoln Toastmasters Club, Logan County Association for Mental Health, United Fund of Lincoln, Lincoln Area Chamber of Commerce and the Lincoln Area Music Society. He was an active member of St. John United Church of Christ, where he sang in the choir.
He and his wife became foster parents in 1971. For more than 23 years they served as foster parents to over 200 children. They also served as Master Foster Parents for many years and taught foster parenting classes at Lincoln Land Community College.
After his retirement, he enjoyed traveling through Europe, Russia, Africa and China. He was an avid jogger and competed in many races, including the St. Louis Marathon twice. He ran on the Great Wall of China and through Red Square in Moscow.
In 1997 he was selected for the Illinois Senior Citizen Hall of Fame, recognizing his lifetime achievements.
Throughout his life he inspired young and old with his spunk, humor, friendliness and sincerity. He had a very active life and made many important contributions to the city of Lincoln.
[From obituary posted in LDN]