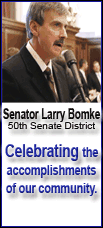 The 20th Annual Christmas on Vinegar Hill will be held from 8 a.m. to 5 p.m. Saturday, November 22. Some of the shopping locations will also be open on Sunday, Nov 23 from 12:00 to 4 p.m.

The day kicks off at 7 a.m. Saturday at St. Thomas Aquinas Catholic Church, 311 S. LaFayette St., where the congregation will serve a breakfast of pancakes, sausage, eggs, biscuits and gravy. Serving will continue until 11 a.m.

Christmas on Vinegar Hill will include 23 locations in private homes, churches and businesses around town. More than 125 vendors will offer crafts, antiques, baked goods and more.

Additional locations will serve homemade food.

Maps with locations and their specialties will be available at all locations and on Saturday at the historic Mount Pulaski Courthouse.

For more information, people can visit www.mtpulaskiil.com and click on "Christmas on Vinegar Hill."
---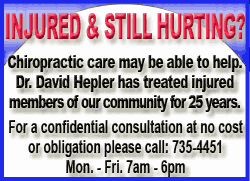 ---

Lincoln College students continue to help
For the second year, assistant professor Michelle Baldwin is sponsoring donation programs to help Logan County residents in need. Her volunteers: LC students.
"I think donation programs are an easy way for the community and college to work together for those who need help," Baldwin said. "Also, volunteering is a good way for students to get involved in the community beyond the campus."
Beginning Monday, Nov. 24, LC students will monitor new toy donations for Toys for Tots from 11 a.m. to 1 p.m. at Lincoln College's Student Center. Donation drop-offs end on Wednesday, Dec. 10, after which time the Marine Corps Reserve will distribute the toys in Logan County.
LC's Christmas kindness doesn't end there. On Sunday, Nov. 23, Baldwin and students will collect food and supplies from noon to 3 p.m. at Wal-Mart for the Lincoln/Logan County Food Pantry and CIEDC. The wish list for donated items includes: peanut butter, canned fruits and vegetables, cereal, soup, macaroni and cheese, soda crackers, fruit juices, toilet paper, diapers, soap, shampoo, toothbrushes and feminine hygiene products.
Last year, Baldwin and her volunteers collected over 30 new toys and four shopping carts full of food and other daily supplies. This year's goal? One word: more.
"My goal is to increase donations and the number of students willing to help," said Baldwin. "This year, the students have really risen to the occasion, and I expect that to continue for years to come."
---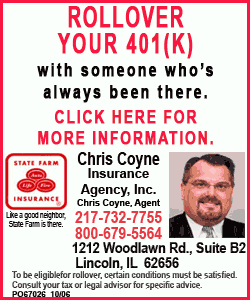 Mission Mart has special sale
The Mission Mart thrift stores in Clinton, Lincoln and Bloomington are announcing plans for their second annual Christmas Extravaganza.
The extravaganza will take place at all three stores the Friday and Saturday after Thanksgiving. The event will include special sales, refreshments and a host of other activities. Each store will be overflowing with trees, lights, ornaments, wreaths, candles, figurines, yard décor, Christmas CDs, every Christmas item imaginable.
The Lincoln Mission Mart will also have a sale featuring 20% off the entire store. Mrs. Claus will visit the store from 9:00 A.M. to 2:00 P.M. on both days. Small toys will be passed out to the children; there will be cookies and drawings for coupons good for $5 off an entire purchase. The Lincoln Mission Mart staff is also planning to walk in the Lincoln Christmas Parade on December 4. The Mission Mart staff will be passing out special treats and coupons to parade goers.
---

Zion Lutheran School Honor Roll
Another group of youngsters have made their school's honor roll and as always Close Up is happy to give them the public recognition they deserve. For the complete list of Zion Lutheran honor roll students, click here.
---

Heartland Community College helping food pantry
The students, faculty, and staff at the Lincoln Center of Heartland Community College are participating in a food drive for Lincoln/Logan Food Pantry. During this holiday season we wish to express our gratitude by helping those in need. Together, we are collecting cans and nonperishable food items. The food drive will run through December 18, 2008. At the Lincoln Center of Heartland Community College, we believe you "can" make a difference. "If you can't feed a hundred, then just feed one." -- Mother Teresa
---
Got a good piece of news, information or something that we can all brag about? If you do e-mail Mike and let us tell everyone about it. Plus you can win cash. Every submission, whether we use it or not, will get your name in the "Close Up" grab bag. At the end of the month we will draw a name and someone will get $25.00 just for dropping us an e-mail. If you wish, we will be happy to donate your winnings to the organization of your choice.
You can contact Mike at mikefak@lincolndailynews.com.
[By MIKE FAK]