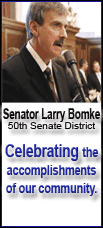 The foundation said payouts will grow by about 10 percent in 2009, a smaller growth than previously planned.
"The financial crisis is affecting everyone, from our foundation to our partners," Chief Executive Officer Jeff Raikes wrote in a letter dated last week that was posted on the foundation's Web site.
Started by the Microsoft Corp. co-founder and his wife in 1994, the foundation has the international goals of overcoming hunger, poverty and disease. In this country, its focus is on education.
The foundation had an endowment valued at $35.1 billion as of Oct. 1, down $800 million from June, according to The Seattle Times.
As the foundation explores its options, Raikes said employees have been asked to cut expenses. But he said the foundation will remain focused on education initiatives in the United States and fighting extreme poverty in developing countries.
"Within these areas, we'll continue to follow the evidence. We will make grants in the areas where the data tell us we have the best chance to make the greatest impact," Raikes said. "Even as we make our own grants, we also try to encourage other funders, such as governments, businesses, and other foundations, to do their part. This advocacy is especially important in tough times."
___
On the Net:
Gates Foundation:
http://www.gatesfoundation.org/