Olympia High School madrigals, family caregiver services, Tuesdays With Santa, Carrington Bell and LCHS wrestling in Close Up
By Mike Fak
[November 25, 2008] Annual Madrigal Feaste
Olympia High School Music Department proudly announces The 19th Annual Madrigal Feaste Friday, December 5 and Saturday, December 6 at 6:30 p.m. (doors open at 6:00 p.m.) at the Olympia High School Gymnasium. Tickets are only $18.00 per person ($23.00 if reserved after November 26th! So order today!)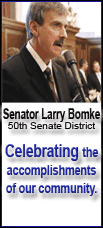 The program consisting of choral and instrumental music, complete with Court Jesters makes for an enjoyable evening at Castle Olympia (Olympia High School Gymnasium). Constructed by parents, students and faculty members, the Castle is the scene of the production and you will be hosted by Ladies-in-Waiting. Madrigal Brass, Madrigal Woodwinds, the Court Singers, as well as the Madrigal Singers will favour you with outstanding music.

Please note the beautiful costumes in today's top picture are all original and made by parents of participating students (past and present). OHS is proud of the majesty of their presentation and invite you to join them at Castle Olympia. The Feaste is the primary fundraiser for their Vocal Music program. The department is planning to take a choral trip next year with proceeds of this event. Reservations are required so call 309-392-2357 for more information.
---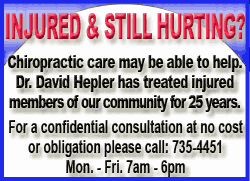 ---

Family Caregiver Services Available
Monday, December 1, 2008 from 11:00am-1:00pm: Gloria Plummer, Field Coordinator with the Area Agency on Aging for Lincolnland will be at the Oasis Senior Center, 501 Pulaski St., Lincoln, IL to meet with family caregivers or grandparents/relatives raising grandchildren to answer questions and provide information regarding services. These consultations are free of charge and on a walk-in basis. Gloria will be at the Oasis Senior Center the first Monday of every month from 11:00 a.m. – 1:00 p.m. to meet with caregivers individually regarding their questions. For more information on these services, contact: Gloria Plummer at 217-787-9234, 800-252-2918 or gplummer@aginglinc.org.
---

Tuesdays With Santa
There will be two opportunities to visit with Santa Claus in a warm place with a short line. His reindeer will bring him to the Lincoln Public Library Annex on Dec. 2 and 9, 5-6:30 p.m. Finish up your list and be on your good behavior, and Santa will offer you a candy cane. The library will provide a free Polaroid photo on Santa's lap and an opportunity to write and mail a letter to the North Pole to "follow up" on your visit. Mom and Dad are welcome to bring their own camera to take lots of pictures of this important event. Please call 732-5732 to register so that enough supplies are on hand.
---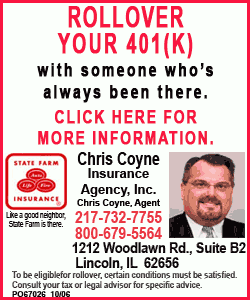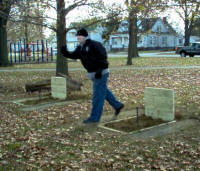 A special thanks to Eagle Scout Carrington Bell
(Click on picture for larger image.)
An Eagle Scout project has provided a welcome addition to historic Scully Park. Carrington Bell of Troop 102, Lincoln, completed the plan previously approved by the Logan County Board's Building and Grounds committee. At one time, there were four sets of horseshoe pits located on the west side of the park. Over the years, the pits had fallen into disrepair and filled in with dirt and grass.
Bell's project included digging out two sets of the pits, refilling them with a sand base and clay top, building backstops, and installing stakes. Concrete surrounding the two exterior sets of pits was removed and filled in with dirt. Locally split rails were made into corners to mark the perimeters of the new horseshoe pit area. Bell will provide a set of horseshoes to the Main Street Lincoln office and The Oasis Senior Center so all those who wish to utilize the horseshoe pits may do so. Main Street Lincoln, Alexander Lumber and Bode Welding contributed to the project.
Bell said he chose this project because playing horseshoes at his family's reunions is a tradition and he liked the idea of restoring a part of downtown Lincoln that can be enjoyed. Bell has been in the Boy Scout program for more than ten years and is the son of Terry and Wendy Bell of Lincoln. His brother, Cory, is also an Eagle Scout. Carrington is a senior at Lincoln Community High School, where he played four years of football. He is also Assistant Chief of the Police Explorers, Post 326, Springfield. Bob Cox is the scoutmaster for Troop 102, which is sponsored by the First United Methodist Church.
---

Support Railer Wrestling
The Lincoln Community High School Wrestling Boosters will have a pancake and sausage breakfast on Sunday, Nov. 30.
The breakfast will be at the Knights of Columbus Hall from 7:00 am-1:00 pm.
Tickets for adults are $6.00, $4.00 for children 12 and under, and free for children 5 and under. Tickets are available at the door. Proceeds will be used to support the Railer Wrestling program.
---
Got a good piece of news, information or something that we can all brag about? If you do, e-mail Mike and let us tell everyone about it. Plus you can win cash. Every submission, whether we use it or not, will get your name in the "Close Up" grab bag. At the end of the month we will draw a name and someone will get $25.00 just for dropping us an e-mail. If you wish, we will be happy to donate your winnings to the organization of your choice.
You can contact Mike at mikefak@lincolndailynews.com.
[By MIKE FAK]