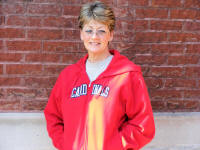 Blue Dog Inn celebrates 30 years in business
Owner says it's time for someone else to own established eatery

Send a link to a friend
[November 26, 2008] The Blue Dog Inn, at 111 S. Sangamon, is celebrating its 30th year in the restaurant business. The owner of the popular eatery, Susie Fuhrer, has been there for 29 1/2 of those years.
A Lincoln native who is the daughter of Bob and Betty Field, Susie started at the Blue Dog Inn shortly after Lou Hardacre took over the business and changed the name in 1979.
Fuhrer explained that the name Blue Dog Inn "came from a favorite dog in the neighborhood named Blue."

In 1983 Fuhrer became a co-owner of the establishment and was instrumental in adding menu items to shift the business from a bar that offered a limited menu of sandwiches to a restaurant that offered liquor. In 1986, she became the sole owner.

By 1990, the Blue Dog Inn was firmly entrenched in the community as an eatery. Fuhrer notes that weekday lunch activity is always high, but weekend evenings when families come to eat are also a very important part of the business.

When asked what the most popular item is, Fuhrer couldn't name a precise meal. Instead she mentioned that many items are popular, and although chili and salads, horseshoes and reubens are always high on the list of sales and most of the menu has strong interest from patrons. She is confident that the Blue Dog's fries are the best in town, and few would challenge her assertion, especially her faithful customers who always order them. The menu's success is undoubtedly due to almost three decades of grooming, adding and changing to fit the requests and desires of her patrons.

Fuhrer, explained how having the business accepted as a restaurant has saved her some problems other bar-restaurant establishments have been facing this year.
Since her inn is a family, food-oriented business, the smoking ban did not affect her business as it did some bars. The hours, which are 11 a.m.-10 p.m. Tuesday through Thursday and 11 a.m.-11 p.m. Friday and Saturday, aren't hours conducive to late-night drinkers, who are more often smokers.
The Blue Dog Inn is closed on Sundays and is open on Monday only for the lunch hour, 11 a.m.- 2 p.m.
Fuhrer, who is 51 years old, is married to Steve Fuhrer, and they live on Eighth Street with two dogs, one named Blue (of course) and the other Angle, plus a cat named Smurfie added in for good measure.
Looking back on the years, Fuhrer mentioned that she feels fortunate and grateful for all who have worked for her at the restaurant as well as for all her loyal customers who have made her business a success. She also felt it was important to state that she couldn't have done the job all those years without the help of her father, Bob, and the support of her husband, Steve.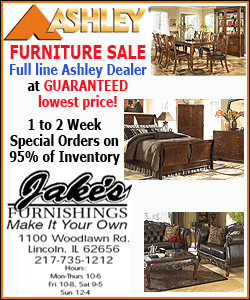 As the Blue Dog nears its 30th anniversary, Fuhrer wanted to make an announcement to the public that her establishment is now up for sale.
She made it clear that she feels fine at 51 years of age and that business is very good. It is just time for someone else to take over and continue the tradition of a family-oriented restaurant with quality foods.
"Steve and I are not ready to retire, and everything is fine with us health wise. The business is going very well, but it's just time to do something else," she said. "When would be a better time to sell a business than when it's going good?" she asked.
Fuhrer decided to make this announcement public to make the situation clear that it is merely time for her to move on, and that is the singular reason for offering the restaurant for sale. The new owner and all its great employees hopefully will continue the Blue Dog Inn's tradition.
The business is listed with Coldwell Banker and has just been added to the MLS listings. Information can be obtained through all realtors in town.
[By MIKE FAK]