He struggled in the postseason last year after signing an eight-year, $136 million deal and isn't doing much this time around, with the Cubs trailing the Los Angeles Dodgers 2-0 in their best-of-five NL division series.
"I signed here to win the World Series and go to the playoffs first," he said.
Well, he's 2-for-2 in making the playoffs.
He isn't having much luck at the plate, though.
He had a leadoff single Thursday night but went 1-for-4 as the Cubs lost 10-3.
That left the slugger 1-for-9 in the series and on a 12-for-75 playoff skid. Not what he was looking for after managing just two hits in 14 at-bats while the Cubs got swept out of the playoffs by Arizona a year ago.
Now, the team that posted the NL's best record and is eyeing the franchise's first championship since 1908 is on the verge of another first-round exit.
The streaky Soriano has done well at times in the postseason, too.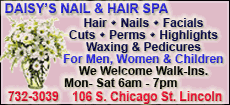 He went 6-for-15 for the New York Yankees in the 2001 AL championship series against Seattle and ended Game 4 with a two-run homer. Then he homered in a loss to Arizona in Game 7 of the World Series.
Two years later, he went 7-for-19 in the division series against Minnesota.
"I had very good moments and I remember because it's in October," Soriano said. "Every time I play in October, I remember those kinds of moments."
So does Dodgers manager Joe Torre, his skipper with the Yankees.
"To me he was a special talent," Torre said. "I thought he handled pressure extremely well. Not very disciplined at the plate, but again, he's one of those guys that has fun playing the game."
Torre said the Yankees "didn't do him any favors" by shifting him around in the field but "he always took it and never seemed to have it bother him."
At his best, Soriano carries the team with his bat and makes fans overlook his shortcomings on defense. At his worst? Well, he's still a sight to behold.
Soriano overcame a slow start to bat .280 with 29 homers and 75 RBIs even though he landed on the disabled list twice -- with a strained right calf and fractured bone in his left hand.
The boo birds were chirping when Soriano went 1-for-22 in his first five games, and he was batting just .175 when he limped off the field with a calf injury in mid-April after catching a fly using his signature hop.
In his first game back, he let what looked like a catchable ball go over his head for a ninth-inning double as Milwaukee rallied to beat the Cubs.
Manager Lou Piniella bristled after that game when asked if he considered lifting his star for a defensive replacement, saying he definitely thought about it.