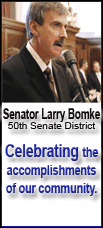 These new prices aren't just for a day or a week. They are the new, reduced prices the long-established restaurant intends to charge patrons for the immediate future.

John Borst, one of the Borsts who own and run the location, smiled when he explained the family's reasoning. "In times where everyone is raising prices on everything, we decided to give the consumers a break," he said. "It's our way of trying to help revive the economy."

The two buffets, which account for 60 percent of the meals served at the eatery, have been moved down almost a dollar from their previous price.

Both John and son Brett were asked what most significant changes they had seen at the business since they purchased the location 27 years ago. Both cited the ever-increasing overhead challenges, including labor and utilities, as being right at the top of their lists.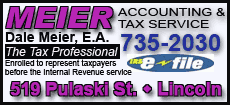 The family made a huge renovation and facelift to their eating place just over five years ago. According to Brett, it was to make the business more efficient as well as to add more seating to the extremely popular eatery
John reflected on their growth in menu. "When we took over, there were 10 items on the cold bar," he said. "Now, between the cold and hot bars, we have over 100 every day."
The Borst family restaurant connection goes back over 70 years and three generations. In 1934, Marge Borst's parents began opening restaurants, including an ice cream company in the Niles, Mich., area. John's parents opened the Springfield Bonanza in 1967.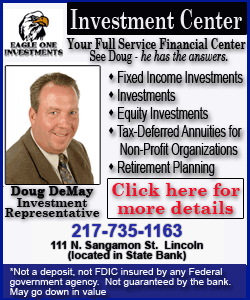 In the '60s, John and Marge co-owned six fast-food restaurants in southwestern Michigan.
In 1982, they purchased the Lincoln Bonanza, and their son Brett is the third-generation restaurant owner. The fourth generation is already working at the business.
The Borsts are very proud of their staff, which numbers 60 employees. Their employees show remarkable longevity in an industry known for constant turnover. Among the employees with significant periods of time with the Borsts are Joshua McFarland, the manager, who has been with them 10 years; Susan Grove their master bread-maker, who has been with them almost 20 years; and their master salad chef, Evelyn Jackson, who has been with them 27 years.
Bonanza's fall hours are 10:30 a.m.-8 p.m. Monday through Sunday.
Besides the new, lower-priced hot and cold food bars, the family will continue to offer special prices on a day-to-day basis on their regular menu items.
You can't miss the location. Besides the huge Bonanza sign, Curly, the 10-foot-tall steer, stands out front with a sign on his side telling everyone of the special, all-you-can-eat steak platter for just $9.99 right now. No doubt another price that can stimulate the local economy.
[LDN staff and the Borst family]