VFW, LCCS, park district, Habitat, Zonta and Little Lambs all in Close Up
By Mike Fak
[October 07, 2008] Congratulations to the LCHS Marching Band
They are the winners of the September Close Up Grab Bag. We will be sending a check for $25.00 to this organization just for helping us spread the good news about their efforts.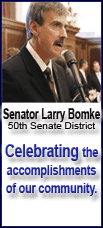 VFW Bicycle Run for Community Action Partnership a success
On Saturday October 1, 2008, a bicycle poker run was held by the VFW Post 1756 Men's Auxiliary to raise money for the Community Action Partnership of Central Illinois Head Start Program. Funds will be used to purchase items for the Logan County Classrooms that they would not be able to have otherwise.
All riders met at Legends Bar on North Kickapoo between noon and 1:00. Riders made stops at the OK Tavern, Mr. Lucky'ss Gold Mine, the Alley-Bi, Character's, Chad's Blind Bar & Grill. Riders picked up a playing card at each stop along the way. The VFW Post 1756 on 5th Street was the final stop, where everyone had to show their five cards and the high hand won.
Total money raised for the four-hour adventure was an amazing $400. This money will be added to other money that has been donated and also with money that will be raised at the fundraiser on October 25, 2008 at the VFW Post 1756 starting at 2:00PM. So mark your calendars so you can come join in the fun. There will be a hog roast, a liquor walk (much like a cake walk), Live Music by four bands, silent auction, games for kids and much more. Riders included reps from Community Action Partnership of Central Illinois and both the VFW Post 1756 Men's Auxiliary and Ladies Auxiliary. If you would like to make a donation to this important cause, you can at CEFCU or the VFW Post 1756 in Lincoln under the account name Head Start Fundraiser.
---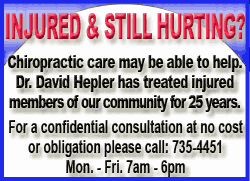 ---

Lincoln Christian College and Seminary hosts lectures
This year's James D. Strauss Lectures at Lincoln Christian College and Seminary will be presented Tuesday and Wednesday on the theme "Biotechnology and the Church." The featured speaker is C. Christopher Hook, a physician and professor associated with Mayo Clinic in Rochester, Minn.
Click here for information on the three lectures.
Click here for scheduled sessions and biographical information on the speaker.
---

Professional Pooch training at the Lincoln Park District
Professional dog trainer and Owner of Canine Training Institute Mike Bieser will be the instructor for Dog Obedience. Group instruction will begin on Sunday, October 12 from 1:30 to 2:30 for four weeks in the Ballroom. The basics of sit, stay, heel and walking on a leash will be covered. You will need a good dog collar and a six foot non-retractable leash. Mike will teach you how to give commands to your dog using the leash. Please pre-register and provide proof on inoculations at the time of registration. More information is available at www.lincolnparkdistrict.com under the Programs page.

---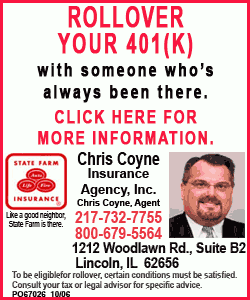 Zonta Club meeting
The Zonta Club of Lincoln will meet on October 14 at 6:15 pm at the American Legion. Shirley Barry will give a program on the prison program. Committees will meet to discuss plans for the year and raffle baskets.
Please call Judy Awe with dinner cancellations no later than 7:30 a.m. on Monday, October 13.
---

8th Annual Habitat for Humanity Recognition Dinner / Dance
The Logan County Habitat for Humanity will honor H & R Block, Harley Petri and Verdia Lee for their support of Habitat at its 8th Annual Recognition Dinner/Dance.
Habitat will also celebrate its sixteen years of building in Logan County. The public is invited to come and enjoy dinner and an evening of good music and dancing on October 11, 2008, at the American Legion Hall on 5th Street in Lincoln. The doors will open at 5:30 p.m. with dinner at 6:00 and the dance at 7:00. Music will be provided by "The Turner Trio." Tickets are $25 for the dinner/dance or $10 for the dance only. They may be purchased in advance at Wachovia Securities (A.G. Edwards & Sons), MKS Jewelers, or by calling 217-732-2861.
Proceeds from the Dinner/Dance will be applied toward Habitat's mission to provide simple, decent, and affordable shelter to people lacking adequate housing.
---

Little Lambs Day Care Chili cook-off
The 4th Annual Chili Cook-off held by the Little Lambs Day Care will be this coming Friday night, Oct. 10 from 5:30-7:00 pm. Take the night off from cooking. Bring the family to taste many varieties of chili and vote for your favorite! There will also be hayrack rides, face painting, pumpkin painting and fun for all! Tickets will be sold at the door. Adults $5.00, children (4-12) $2.50 and children under 3 free. Little Lambs is located at 1500 N. McLean in Lincoln.
---
Got a good piece of news, information or something that we can all brag about? If you do, e-mail Mike and let us tell everyone about it. Plus you can win cash. Every submission, whether we use it or not, will get your name in the "Close Up" grab bag. At the end of the month we will draw a name and someone will get $25.00 just for dropping us an e-mail. If you wish, we will be happy to donate your winnings to the organization of your choice. You can contact Mike at mikefak@lincolndailynews.com.
[By MIKE FAK]