IDOT cautions motorists during deer season

Send a link to a friend
[October 15, 2008] SPRINGFIELD -- The fall season is here and the Illinois Department of Transportation and the Illinois Department of Natural Resources remind motorists that deer are more active during the fall, which increases the likelihood of vehicle crashes involving deer. Fall is the busiest season for these crashes, as deer seek mates and food sources.
Statistics show that in 2007, there were 25,006 deer-vehicle crashes reported in Illinois, down almost 2 percent from the 25,490 reported the previous year. The number of people injured in these crashes also decreased, from 938 in 2006 to 846 in 2007. Five people were killed in Illinois in 2007 due to a vehicle crash involving a deer. That number increased from the one fatality reported in 2006.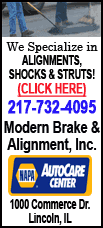 "We are doing our part to help reduce the number of fatalities on Illinois roadways, and motorists can assist us by simply being more alert," said Milton R. Sees, secretary of the Department of Transportation. "It's also important that drivers buckle up and motorcyclists wear helmets to prevent injury or death."

Following standard safety practices can save lives in the event of crashes involving deer. A nationwide study of vehicle-animal crashes, conducted by the Insurance Institute for Highway Safety, shows that 60 percent of people killed riding in vehicles were not wearing seat belts, and 65 percent of motorcyclists killed were not wearing helmets.

"Deer are most active at dawn and dusk, and we ask that motorists have a heightened sense of awareness especially during these times," said Sam Flood, acting director of the Department of Natural Resources. "Motorists should also be aware that if they see a deer crossing the road, there are likely more to follow. Don't assume it is safe to speed up after one deer crosses your path."
The top 10 Illinois counties for deer-vehicle accidents in 2007 were:
Cook, 995

Madison, 694

Peoria, 624

Pike, 611

Will, 572

Sangamon 546

Lake, 533

LaSalle, 528

Kane, 496

Fulton, 455
Suggestions for motorists to avoid deer-vehicle accidents:
Be particularly cautious at dusk and dawn, when deer are most active.

Reduce speed and be prepared to stop on roads where deer may be present.

Deer may cross the roadway and double back across the road surface. Before proceeding, make sure deer have moved away.

Be mindful that several others may follow a single deer near or across a road.

Keep track of locations where deer have been seen in the past. This will help avoid being surprised by deer crossing roads.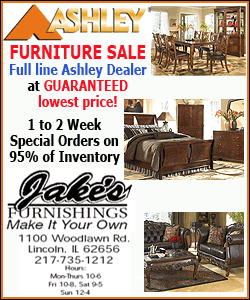 Avoid swerving into oncoming traffic or off the road if deer are on the roadway. Instead, slow to a stop and wait for the deer to move along.

Drivers encountering deer on the roadway should try flashing their headlights from bright to dim or honking their horn to encourage the deer to move on.

Drivers can alert other motorists to the presence of deer by tapping their brakes.
If a deer-vehicle accident does occur, drivers and passengers involved should provide assistance to anyone injured. Contact local, county or state law enforcement. Do not attempt to remove a dead or injured deer from a busy roadway. Illinois law requires all accidents resulting in damage of $500 or more to be reported and an accident report to be filed with police.
The driver involved in an accident involving a deer may take possession of the animal. If the driver does not want it, any Illinois resident may claim the deer. Anyone possessing the deer must keep a personal record of the date the deer was claimed, the sex of the animal, the location of the accident and the place where the deer or deer parts are stored. This information must be kept until the deer is consumed or no longer in the possession of any person. This information must be provided to any law enforcement officer investigating the death and possession of the deer.
Those taking possession of vehicle-killed deer are not required to phone in a report and obtain a registration number for the deer unless the deer is taken to a taxidermist or tannery. If the deer is to be taken to a taxidermist or tannery, please call the IDNR Office of Law Enforcement at 217-782-6431 to obtain a tag before delivering the deer.
[Text from Illinois Department of Transportation file received from the Illinois Office of Communication and Information]