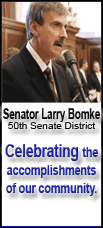 Light, sweet crude for November delivery was down $2.90 to $71.64 a barrel in electronic trading on the New York Mercantile Exchange by midafternoon in Singapore. The contract fell overnight $4.09 to settle at $74.54, the lowest settlement price since Aug. 31, 2007.
Oil prices are now half of the peak they reached in July.
"The market is just very worried about a severe international economic downturn," said David Moore, commodity strategist at Commonwealth Bank of Australia in Sydney. "They're thinking that oil consumption will be weaker than expected."
Investors were discouraged Wednesday by a U.S. Commerce Department report that showed retail sales dropped in September by 1.2 percent, a sign that turmoil in the credit markets has begun to slow consumer spending. Later in the day, the Beige Book, the assessment of business conditions from the Federal Reserve, said that the economy continued to slow in the early fall.
Japan's benchmark Nikkei 225 stock average was down nearly 10 percent Thursday while the Dow Jones industrials plummeted 733 points Wednesday, or 7.9 percent, it's second-largest point loss ever.
"If we're in the grips of a severe downturn, it's very hard to pick where things will bottom," Moore said. "There's the potential that bad economic news will continue to rattle markets."
Investors are beginning to anticipate an output cut by the Organization of Petroleum Exporting Countries at its next meeting in November in a bid to boost prices, Moore said.