Germanfest this weekend
10th year -- family time, German food, polka music

Send a link to a friend
[October 16, 2008] The 10th annual Germanfest at St. John United Church of Christ will be on Saturday.
The menu, need we say, will be full of German specialty foods. The menu: brats, red cabbage, sauerkraut, German potato salad, applesauce, apple strudel, and German chocolate cake or angel food cake -- all to be served with apple cider, lemonade, tea or coffee under the tent on the parking lot of the church, on the corners of Eighth and Maple streets.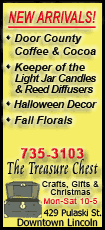 The youth of the church will offer the same at a drive-through line available alongside the east ALMH parking lot, at the alley.

There will also be a "Market Strasse" featuring homemade and vendor crafts from 10 a.m. to 4 p.m. in the church's Fellowship Hall. Other events planned are a used book sale and a silent auction.

Tickets for the meal are $7 for adults, with children under 6 eating free. This year there will also be free in-town delivery of six or more prepaid meals.

Proceeds will benefit mission projects, which have been the recipients of this event from its beginning. Missions served have been the Austin Bahn fundraiser, Back Bay Mission, Boy Scout Troop 1106, Church World Service Disaster Relief Fund, Community Action Food Pantry, Habitat for Humanity of Logan County, Hope From the Rubble (UCC CWS/9-11-01), Illinois Conference Hurricane Relief Fund, CROP, Mom and Me Camp, Reinhold Niebuhr memorial plaque, Salvation Army, SHARE, St. John UCC of Chicago (sister church), St. John UCC Youth Veteran's Dance and the Teddy Bear Project of ALMH.
This year there will be an old-fashioned hymn sing under the tents on Sunday from 3 to 5 p.m. The community is welcome and invited to bring lawn chairs. A hymn booklet will be provided for all to join in singing old-fashioned hymns and gospel songs from the days of old. Tim Searby will be the emcee. Laura Lee, Kay Dobson and Rachel Hall will be the accompanists, and two groups will sing special selections. Refreshments will be available during the hymn sing.
For more information, call 732-6957.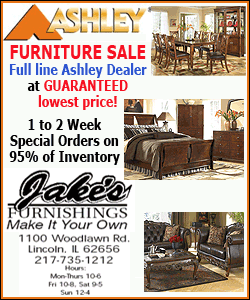 Church background
St. John United Church of Christ has a rich and storied history in our community. In the 1850s a number of immigrants from various provinces of Germany who had settled in Postville and the rural area around it began to assemble for religious services. At first, these services were probably in homes when a preacher was available. Then this pious little group began to congregate at the Rothschild School, a country school building located about four miles northwest of Postville. The calendar was relayed by a horseback messenger to the families who were members of this group.
By 1860, the meeting place for these worship services had been moved to the Fourth Ward, which is geographically Postville. Here, the Fourth Ward Schoolhouse on Jackson Street, midway between Fifth and Sixth streets, was where the group met for services.
On a Sunday in September of 1860, the first German Evangelical Congregation was founded. This was the ancestor of today's St. John United Church of Christ.
[Text from files received]