Our military, Zion Lutheran Scouts, YMCA and Harvest of Talents, quarter midget racers, and Humane Society in Close Up
By Mike Fak
[October 17, 2008] Friends and family in the military
We just want to take a well-deserved minute to ask all of you to visit our Community page midway down our site. In these troubling times there has been one constant, one undeniably proud benchmark to keep our pride in our country and who we are alive and well. It is the names and the stories of all those in a military uniform who serve our nation and all of us. In Community, graciously supported by our local AMVETS chapter, we give the names of family and friends who are currently in the service. We ask all of you to take a moment to visit that page. Some of the names you will recognize. Others you will not. But each and every name in our list deserves not only our thanks but our prayers that they will return home, safe and sound and ready to fulfill their portion of the American dream. They are the finest among us and we can't thank them enough.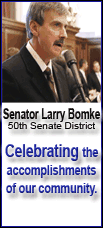 Zion Lutheran School keeps helping community
At their weekly chapel service on Oct. 15, Zion Lutheran School students contributed food items and money to help fight world hunger. Several boxes of food and over $70 were donated by students, staff and families. The food drive was organized by Girl Scout Troop 6419 of Zion Lutheran School. The food and money were donated to the Lincoln/Logan Food Pantry.
(Click on picture for larger image)
---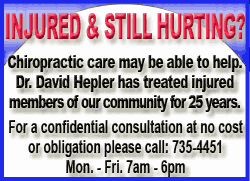 ---

The Y teams up with Harvest of Talents
The Lincoln Area YMCA in conjunction with the Harvest of Talents will be hosting the Y Run at the Harvest of Talents on Saturday, October 25th starting at 8:30 A.M. Participants may register at the YMCA Office or on the day of the race at the Harvest of Talents (however forms received after October 22 will require a $3 fee increase). At this event the Y will hold both a 5K Run and a 1 Mile Fun Run/Walk. Proceeds from this event will be given to the Harvest of Talents and the YMCA Scholarship Fund. If you have any questions please feel free to contact the YMCA at 735-3915.
---

Are you ready for some V-Ball?
Registration for the YMCA Youth Volleyball program will run until October 22nd. Forms received after October 22nd will require a $10 fee increase. This program is for children 1st-6th grade who are interested in improving upon their volleyball skills. This instructional program will run on Tuesdays, October 28 through December 2. Instructor, Krista Hoban, will work with each child to improve upon their individual skills. Reserve your child's spot today.
---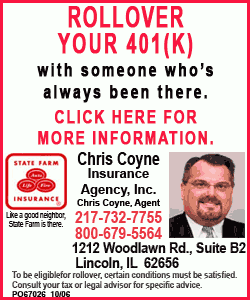 Quarter midget "arrive and drive"
The Abraham Lincoln Quarter Midget Association is sponsoring a fun "arrive and drive" for youngsters age 5-16 Saturday, Oct. 18. This is a chance for children ages 5-16 to drive a real quarter midget race car. All safety equipment will be provided, and cars are modified to slow the actual speed. If your child is interested in racing, this is a great opportunity to take a test drive. There is a fee to participate. Visit www.alqma.com for additional information and directions. The Abraham Lincoln Quarter Midget Association racetrack is in Broadwell (behind Rocking Horse Campground).
---

Humane Society adopt-a-thon
The Humane Society of Logan County is having another adopt-a-thon on Saturday, Oct. 18, at the Pet Connection at 523 Woodlawn Road. Both dogs and cats that will no doubt all get along with each other will be available to see. Applications for adoption can be obtained at the event. The time is noon-1:30 pm.
---
Got a good piece of news, information or something that we can all brag about? If you do e-mail Mike and let us tell everyone about it. Plus you can win cash. Every submission, whether we use it or not, will get your name in the "Close Up" grab bag. At the end of the month we will draw a name and someone will get $25.00 just for dropping us an e-mail. If you wish, we will be happy to donate your winnings to the organization of your choice.
You can contact Mike at mikefak@lincolndailynews.com.
[By MIKE FAK]