Lincoln confronts slavery issue before massive throng on the square
Dateline: Oct. 16, 1858 / Oct. 16, 2008
Reported by M. Edward Fak, Esquire

Send a link to a friend
[October 17, 2008] The day was at hand for our city's favorite son, Abraham Lincoln, to visit us and engage us with his presence.
A chilling fall breeze attempted but failed to permeate the air of a sunny October day. The weather, evidently on its incorrigibly quick journey toward winter, had been allayed for just this date.
The square began collecting citizens a full hour before the event, many choosing to give up their time for a more certainly advantageous position near the steps to better hear Mr. Lincoln.

Threads of schoolchildren snaked and wound their way down the streets, at one time stretching in their march from Union Street all the way to Kickapoo Street.

At 12:30, A. Lincoln arrived and, on such a clear, notable day, walked the short journey from the train station to the square, refusing to admit himself into a nearby carriage intended for his purposes.

As he walked, shopkeepers and patrons alike in the many stores along Broadway came out to wave and proffer him their respects. Lincoln often stopped to shake the hands of well-wishers, both known to him and not. He appeared to enjoy this experience as much as he has been reported to have taken a fondness to public speaking in these past six months of campaigning to be our senator.

As Lincoln neared the square with a multitude around him, he was met by a still larger crowd already gathered at the Logan County Courthouse. The thousands already gathered prepared to defend their space by whatever means necessary to hear Lincoln speak as the two throngs converged, thankfully in harmony. Coming up the courthouse steps in common with our notable city fathers, Mr. Lincoln, upon turning, was able to see the vast audience that had come to give him support.

Our own Samuel C. Parks deigned to introduce Mr. Lincoln, and his wordiness and fondness for a speech did not rest well with some in the crowd who were there to hear Mr. Lincoln, and not Mr. Parks.

Twice, Mr. Parks was admonished from the crowd to discontinue and surrender the podium to Mr. Lincoln. Twice he promised to do so, only to labor on.

Finally, understanding a large and restless crowd was not something to fool with, Mr. Parks introduced Mr. Lincoln as the thousands cheered, the latter perhaps no more than the fact they were rid of the former.

Mr. Lincoln stood quietly as the crowd applauded him. He looked rested and well after just finishing his last debate with Mr. Douglas the day before in Alton. Removing his hat, he spoke in his always affable and homespun style. His air of newfound comfortability in speaking was apparent even to the children gathered. In many ways he was the same man we had known for years, but in other ways he has obviously gained a confidence in his oratorical skills that are new to this observer.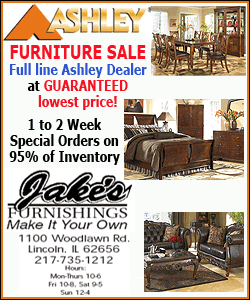 Mr. Lincoln's speech covered many points, all of which are included in this publication for all literate eyes to see and read. But he was here principally to make certain his views on slavery were known to all, and thus they bear magnification. Mr. Lincoln explained directly that he is not an abolitionist and does not profess any requirement that he become one. He also stated with no exception that he is against slavery in any form. He promised if elected to fight to defeat the Kansas-Nebraska Act championed by Mr. Douglas and to work for the reinstatement of the Missouri Compromise that set limits on the spread of slavery.
It can be said that Mr. Lincoln sparingly used his wit to entertain the crowd. He excused his disdain of his usual populist humor by stating that the issues he was talking about deserved somber and serious discourse.
It must be noted that on several occasions, Mr. Lincoln was interrupted by crass and ill-mannered men in the crowd. They no doubt were Democrats sent to disrupt Mr. Lincoln, or perhaps even worse, Tories.
Nonetheless, Mr. Lincoln won the crowd over this day, and it can be surmised that this day will long be remembered in our small town's history as we continue to grow and prosper. It was a great day for our new city.
Mr. A. Lincoln's complete speech can be found here:
http://www.geocities.com/
findinglincolnillinois/abes200th-lincolnil.html
[By MIKE FAK]