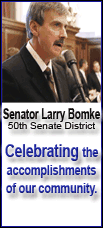 Wheat for December delivery rose 11 cents to $5.6625 a bushel; December corn gained 18.5 cents to $4.030 a bushel; December oats rose 1.5 cents to $2.820 a bushel; November soybeans rose 27 cents to $8.940 a bushel.
Beef futures and pork futures also rose on the Chicago Mercantile Exchange.
October live cattle rose 1.6 cents to 91.05 cents a pound; October feeder cattle gained 1.6 cents to 98.40 cents a pound; December lean hogs rose 0.33 cent to 56.30 cents a pound; February pork bellies rose 2.87 cents to 87.57 cents a pound.