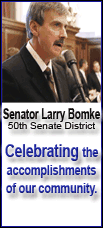 Brown, buoyed by the praise he won for engineering a British bank bailout that inspired U.S. and European rescues, is proposing "radical changes" to the global capitalist system, including a cross-border mechanism to monitor the world's 30 biggest financial institutions. Sarkozy has floated the idea of reforming rating agencies and even exploring the future of currency systems.
Details remain vague and the obstacles are many.
But the political pendulum, at least in Europe, is swinging decisively in the direction of tighter control and supervision, away from the laissez-faire economics that fueled a colossal global boom and appear to have enabled an equally dramatic bust.
In Brown's view, what's needed is nothing less than a new version of the 1944 Bretton Woods conference that brought together Allied leaders and established a post-World War II global monetary and financial order, laying foundations for the International Monetary Fund and a currency exchange regime that lasted for three decades.
"This is a defining moment for the world economy," Brown wrote in Friday's Washington Post. "The old postwar international financial institutions are out of date. They have to be rebuilt for a wholly new era."
Behind the lofty rhetoric, Brown and Sarkozy are backed by a degree of clout.
They have proved instrumental in the past two weeks in corralling European governments to dig deep into taxpayers' pockets to shore up banks, unfreeze credit, and soothe markets.
But experts wonder whether leaders at the proposed summit will truly be able to set aside national interests and clashing legal and business cultures to agree on a common vision. In exchange for global financial stability, nations could be forced to sacrifice autonomy and economic growth under tighter regulatory shackles.
The gathering aims to bring together the Group of Eight industrial powers as well as emerging players like China and India - and countries at different stages of economic maturity will bring different needs to the table, as climate change talks have made abundantly clear.
Officials in the waning Bush administration are also politely dismissing global regulation and some observers are skeptical Europeans can sell the idea to any U.S. president.
"I'm very dubious that much can be done," said Charles Wyplosz, an international economics professor in Switzerland.
The White House is playing down the likelihood Bush will agree to a time and place for a summit when he meets this weekend with Sarkozy and European Commission President Jose Manuel Barroso.
For Brown, the banking bailouts are only phase 1 in getting finance working again. Phase 2, he argues, will require global action as sweeping as that which gave birth to the United Nations, the World Bank and the IMF in the 1940s.
At a European summit this week, Sarkozy and Brown started to flesh out their proposals, backed by Barroso and German Chancellor Angela Merkel.
The most eye-catching proposal from Brown - albeit one based on a proposed European system - envisions a cross-border monitoring program for the 30 biggest giants of global finance, such as America's Citigroup Inc. or Britain's HSBC PLC.
He also called for the 185-nation IMF to be turned into an "early warning system for the world economy," with international monitoring powers. Such reform would mark a revival for the IMF, which has receded to the sidelines of the global economy in recent years.
Sarkozy cast his net even wider. The conservative - who has in recent weeks sounded increasingly like a leftist - wants discussion on tax havens, hedge and sovereign wealth funds, the "folly" of big pay bonuses for risk-taking executives and even how many major currencies the world needs.
Some of his harshest words were for ratings agencies, hinting that he wouldn't be sorry to see them disappear altogether in the financial architecture that he and Brown say they want built.
"Do we keep them?" he asked. "What do we replace them with?
"Should they only be American?" he added, in a statement bound to get attention from U.S.-based Moody's and Standard & Poors.