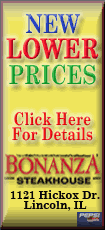 McCain told Letterman that he "screwed up" by canceling a guest shot three weeks ago because of the economic crisis. Letterman has hammered him ever since, and questioned the Republican sharply Thursday on Sarah Palin and campaign tactics.
Nielsen Media Research says 6.5 million viewers watched, nearly 3 million more than Letterman typically gets. It was Letterman's biggest night since a December 2005 appearance by someone else he's had tense times with - Oprah Winfrey.
Copyright 2008 The Associated Press. All rights reserved. This material may not be published, broadcast, rewritten or redistributed.