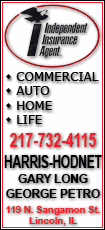 Tibbs also presented copies of a letter sent to her anonymously concerning smoking in local bars and no apparent enforcement actions being taken. The letter said that one bar has gone so far as to put ashtrays back out on the tables.
Tibbs queried the council if there was anything that could be done.
Alderman Dean Henrichsmeyer said that he recently read that a court in Illinois ruled the smoking ban is not enforceable.
The supporting enforcement in the Illinois plan was to hand the enforcement to health departments. That plan was not complete yet when the law went into effect on Jan. 1, 2008.
Mayor Beth Davis-Kavelman pointed out that this was another unfunded mandate handed down from the state. "We have no tools," she said. "The health department is working on this. I've contacted the governor's office. What are we going to do? This city council has no ability to enforce this."
Tibbs said that she would have preferred to have known who sent the letter so she could speak to them. "If you are going to speak out, let us know who you are," she said. "We do care."
City attorney Bill Bates said, "We'll follow up and see what we can do."
Four members of the council who were absent last week were all back for this week's council session. The mayor said that she, Marty Neitzel and Joni Tibbs were all on their vacations. Alderman Dave Armbrust had a new grandchild and was proudly sharing his pictures this week.
By JAN YOUNGQUIST]