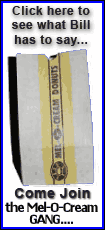 The delays have cost Heptad Vegetables -- where Carthel and his uncles work in Floyd County -- several thousand dollars.
"We couldn't get them out of the field," he said. "We didn't have them to sell."
It's prime pumpkin time across the country with Halloween and Thanksgiving just around the corner. Youngsters and adults are gearing up to carve ghoulish, frightening or silly faces on the gourds; others will make pies from the innards.
Demand for pumpkins is at an all-time high, Texas agriculture officials said, and it's mostly because there are fewer pumpkins coming from Floyd County this year.
Across the country, pumpkin prices are up in many places, though that could reflect increased production and transportation costs, said Gary Lucier of the U.S. Agriculture Department.
U.S. pumpkin production has grown significantly over the past 25 years, according to a 2007 USDA report. The number of farms reporting pumpkin acreage has more than doubled since 1982 to 14,073 farms and harvested area has more than tripled to about 96,400 acres.
Illinois typically leads the nation's top producer with Texas ranking seventh in acreage.
Morton, Ill., about 10 miles from Peoria in the central part of the state, bills itself as the world's pumpkin capital. About 80 percent of the world's canned pumpkins are packed at a plant in the town of about 16,000.
In Texas, Floyd County farmers planted fewer acres and yields are down. But there's good news, too.
"The quality was really outstanding," said J.D. Ragland, a Texas AgriLife Extension agent. "We had a really good growing season."
Farmers in Floyd County planted about 750 acres this summer, down from 900 or so last year. Ten years ago, they planted 2,500 acres.
This year's yields are averaging about 20,000 pounds per acre, meaning a harvest of about 7,500 tons in Floyd County alone. Crosby County and areas of East Texas also grow pumpkins but in smaller-acre plots.
Does the drop in acreage mean there might not be enough pumpkins to go around in Texas?
"I would suspect our supply will be short once we get to Halloween time," Ragland said. "We've got pumpkins available now. Come get them while they last."