McCain flew to Toledo, near where "Joe the Plumber" Wurzelbacher lives, from the state capital of Columbus amid the GOP's push for this swing state and its 20 electoral votes.
The Holland, Ohio, plumber was in New York making the media rounds with his family, but McCain has been evoking his spirit after making him the focal point the final presidential debate between McCain and Obama. McCain also mentions Wurzelbacher at his rallies after the plumber was videotaped questioning Obama about whether his tax plan would keep him from buying the two-man plumbing shop where he works.
While some analyses showed Wurzelbacher faring better under Obama's plan than McCain's, McCain has lashed out at Obama for saying that while his policies may force some to pay higher taxes, they were designed to "spread the wealth around" by targeting only families making over $250,000 annually.
"Sen. Obama is more interested in controlling who gets your piece of the pie than he is growing the pie," McCain told a crowd of several thousand.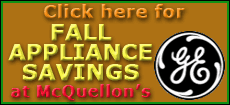 During an earlier rally at Otterbein College in Westerville, Ohio, McCain drew cheers when he proclaimed that he was campaigning "on behalf of Joe the Plumber and Rose the Teacher and Phil the Bricklayer and Wendy the Waitress."
Obama, in North Carolina, said he is the one worried about "the cops and firefighters who keep us safe, ... the waitresses who work double shifts, the cashiers at Wal-Mart, the plumbers fighting for the American Dream."
He added: "John McCain thinks that giving these Americans a break is socialism. Well I call it opportunity, and there is nothing more American than that."
McCain complained during a nationally televised interview that the vast sums of money Obama is raising risk the post-Watergate financing reforms.
Speaking on "Fox News Sunday" hours after Obama's campaign reported raising a record $150 million in September, McCain said the overall sum his Democratic rival has raised -- $605 million -- showed the "dam has broken" for future White House races.
McCain also complained that the identities of people who contributed more than $200 million of Obama's total take have not been reported, although that is allowable under federal law because the individual donations fall under the $200 reporting limit.
"I'm saying it's laying a predicate for the future that can be very dangerous," McCain said. "History shows us where unlimited amounts of money are in political campaigns, it leads to scandal."
The Arizona senator has been limited to spending $84 million for the general election campaign after he accepted federal funds under a program created after the Watergate scandal. Obama initially indicated he would adhere to the same limit, but reversed course and became the first post-Watergate candidate to finance a general-election campaign with private funding.