Lincoln Military Family Group, Humane Society, blood drive, Harvest of Talents, Holy Family Parish and Vonderlieth in Close Up
By Mike Fak
[October 21, 2008] Frankenstein meets the Wolf Man for the troops
The Logan County Board has approved "lights, camera, action" in Latham Park on Oct. 24th. What we mean is there is going to be a movie in Latham Park at 7 pm, "Frankenstein Meets the Wolf Man" ... PG-13. Sponsored by the Lincoln Military Family Group, they will sell popcorn, soda, do face painting, etc. Our firemen and some of the fire trucks will be there too. Events start at 5 pm with the movie at 7 pm. It's a fundraiser to assist Lincoln military families in purchasing holiday care packages for loved ones deployed to Iraq and Afghanistan. All proceeds will be donated to the Lincoln Military Family Group. All equipment -- projector, movie and sound system -- has been donated. Volunteers and donations will be provided by Peasley Funeral Home, Lincoln Christian Nursery School, Lincoln Masons, Jefferson Street Christian Church and several anonymous donors. In case you have a free evening to take the kids somewhere, here's something the family can do together that will also help our men and women deployed in the service for our benefit.
---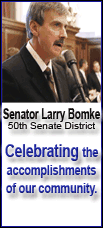 Satisfy all your cravings
On Saturday, October 25, 2008, the Humane Society of Logan County will hold two giant bake sales (9:00 AM - 2:00 PM) and a cook-out (10:30 AM - 2:00 PM). Kroger will be the site for a bake sale and a cook-out offering pies, cakes, cookies, breads, hot dogs, chili dogs, hamburgers, chili burgers, pork sandwiches, nachos and cheese, chips and soda. Wal-Mart will be the site for the other bake sale, offering pies, cakes, cookies and breads.
The Humane Society will have dogs at the two events that are very deserving of a "forever home" and would love to be adopted. All animals offered for adoption by the Humane Society have been spayed or neutered, are current on all shots, and have been microchipped.
---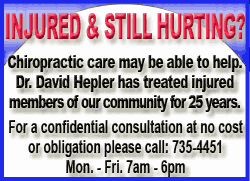 ---

Don't Be Scared - Donate Blood
Halloween is almost here and it is time to help our local hospitals restock their blood supplies to meet the needs of planned surgeries and emergency medical needs. Blood cannot be manufactured. It is a gift from one person to another. Please give what's in your heart and donate blood.
Citizens from the community and surrounding area are asked to help area hospitals and patients by donating blood. A blood drive is scheduled in your community on Monday, October 27, 2008 at Lincoln College - Meyer-Evans Student Center, located at 300 Keokuk in Lincoln. The hours of the blood drive are 10:00am-3:00pm. For your convenience, please call John Stoltzenburg to sign up at 735-5050, ext. 327 or schedule an appointment online at www.cicbc.org. Of course walk-ins are always welcome and appreciated.
---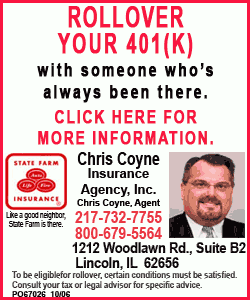 Harvest of Talents for World Hunger this Saturday, Oct. 25
The 25th anniversary Harvest of Talents for World Hunger is this weekend and we recommend you donít miss this annual event. There will be food, handcrafted items for sale, music, indoor dining, outdoor snacks, entertainment, live auction, something for everyone, with all proceeds going to world hunger relief. The event will be held at Lincoln Christian Church, 204 N. McLean St. Doors open at 7:00 am with the auction to begin at 2:00 pm. The church is handicapped-accessible. There is no admission fee; free parking. For more information, call 217-732-7618 or e-mail harvest@lincolnil.us.
---

Holy Family Parish Fall Festival
Holy Family Parish, Lincoln Knights of Columbus, Carroll Catholic School, Peasley Funeral Home are sponsoring the parish fall festival this Saturday, Oct. 25.
This third annual event will feature ethnic food, inflatable rides, a bocce ball tournament, bags tournaments, family games, silent auction, raffle items, pumpkin carving items, face painting and much more. For more information, contact Carroll Catholic School between 8 am and 3 pm weekdays at 217-732-7518. The event will be held at the Knights of Columbus Hall, 217 N. Limit. The hours are 3-9 pm.
---

35th anniversary open house at Vonderlieth
Vonderlieth Living Center, at 1120 N. Topper Drive in Mount Pulaski, is having a 35th anniversary open house on Sunday, Oct 26. The public is invited to stop by between 2-4 pm and help the center celebrate 35 years of quality service to the community.
---
Got a good piece of news, information or something that we can all brag about? If you do e-mail Mike and let us tell everyone about it. Plus you can win cash. Every submission, whether we use it or not, will get your name in the "Close Up" grab bag. At the end of the month we will draw a name and someone will get $25.00 just for dropping us an e-mail. If you wish, we will be happy to donate your winnings to the organization of your choice.
You can contact Mike at mikefak@lincolndailynews.com.
[By MIKE FAK]