City passes new sewer rates
Mayor announces new city website on display

Send a link to a friend
[October 21, 2008] Lincoln sewer rates will be going up. The city has made budget planning simple for residential users. The city took the almost 20 percent increase from the current rate and made it a flat $20 per month. In two years it is scheduled to increase another even amount of $1, and that is expected to stay close to the consumer price index, which is a standard used in many government operational cost increases.
The council opted to also increase the other sewer user rates, based on the residential rate change. Some of those categories also have additional fees related to additional processing costs that their use creates.
The sewer rates passed with 100 percent council attendance and a unanimous vote of approval Monday evening. The decision was put on hold two weeks ago when several council members were absent.

The new rates go into effect Nov. 1.

See details of the rate structures in "City: Make your budget changes now; Lincoln sewer rates expected to increase Nov. 1."

New website goes up

Mayor Beth Davis-Kavelman announced that the city of Lincoln's new website has gone up.

Previously, the state of Illinois mandated that communities and other government entities have their own Web presence. The city did not have the funds at the time to put into a website. At last week's council meeting Mayor Davis-Kavelman respectfully credited Lincoln Community High School students for their creativity and their skill in putting together the city's first website.

Since that time funds were built into the budget toward building the new site.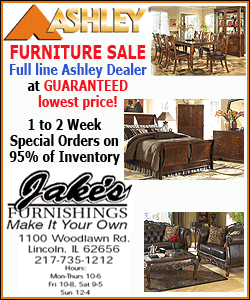 The site is still having information added, but it went up for use this week. It has a beautiful banner artistically displaying the upper portions of the Lincoln City Hall and the Logan County Courthouse. Its subdued background and clean menu arrangements are pleasing to the eye and lead to all aspects of the city government, with additional links to other important community information as well.
You can find out about your community laws, fire safety, building codes, see what your aldermen look like, or brush up on your community history and much more. Take a visit to your community's new home website and see what all is there. City of Lincoln: http://cityoflincoln-il.gov/
[By JAN YOUNGQUIST]