Oasis notes
For the week of Oct. 23-29

Send a link to a friend
[October 22, 2008] The Oasis, Logan County's senior citizen center, 501 Pulaski St. in Lincoln, is open weekdays, except holidays, from 9 a.m. to 4 p.m. The center also is open on Friday and Sunday nights for table games. Dominic Dalpoas is the executive director. Activities are open to all Logan County senior citizens, regardless of membership. Friends of The Oasis members receive a bimonthly newsletter by mail and reduced rates for classes and trips. For more information, call 732-6132 or 732-5844.
Bingo sponsored by St. Clara's Manor
St. Clara's Manor will sponsor the bingo games Thursday at The Oasis, beginning at 1 p.m.
Free blood pressure checking
The Oasis offers free blood pressure checking every Friday, 10-11:30 a.m.
SHARE
The Self-Help and Resource Exchange Program distribution will be on Friday, 4-5:30 p.m., at the senior center. The SHARE program is an outreach sponsored by the Catholic Diocese of Peoria. For more details, you may contact the senior center at 732-6132.
Bunco
Bunco games will be on Monday, beginning at 1 p.m., at the senior center.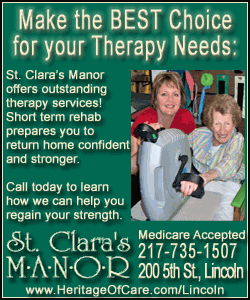 Tuesday's lunch
The 11:30 a.m. lunch for Oct. 28 features goulash, salad, bread and butter, and dessert for $3.75; or, if you stay to play cards, the cost is $3.25. The deadline for reservations is 1 p.m. Monday.
Card winners
The winners for weekday pinochle were Henry Warnisher and Marjorie Reiners. The weekend winners were Kathy Roos and Ruth Ackerman. The five-in-one winner was Betty Burger. Congratulations.
[Text from Oasis news release]