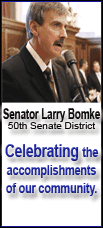 The jury deliberated a total of less than three hours Thursday and Friday before convicting the former priest. The federal charge involved taking a minor across state lines for sex.
The trial before U.S. District Judge Rebecca R. Pallmeyer lasted 2 1/2 weeks.
McGuire was once widely revered as a leader of spiritual retreats. The Vatican ordered him out of the priesthood earlier this year.
In 2006, McGuire was convicted in Wisconsin of child molestation and sentenced to seven years in prison. He has appealed. McGuire has also been indicted in Arizona.