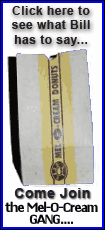 Cruise said Lauer was the man "we wake up to every morning - only because we had the channel on NBC before we fell asleep."
Three years ago, Cruise had berated Lauer on a "Today" show interview for suggesting that psychiatric treatment might help some patients. It was the same year he jumped up and down on Oprah Winfrey's talk show couch, excited about falling in love with Katie Holmes.
Cruise joked that Lauer had given him some advice before his interview with Winfrey: "Go crazy. Trust me. Trust me. People will love you for it."
Couric, Lauer's former "Today" co-host, suggested Cruise was threatened by Lauer. "He wants to be the only heterosexual man in the room who everyone thinks is gay," she said.
NBC Universal chief Jeff Zucker, former executive producer at "Today," revealed the origin of Lauer's popular travelogue feature, "Where in the World is Matt Lauer?"
"We got that idea when I got a call from his wife one morning at 3 a.m.," he said.
His colleagues and comedians like Richard Belzer roasted Lauer for being a germophobe and having a clothes budget rivaling GOP vice presidential candidate Sarah Palin.