It is all but certain the Fed will cut rates -- for the second time in this month alone. The big question: Just how low will the Fed go?
Investors on Wall Street and some economists are betting the Fed will slash its key rate by half percentage point to 1 percent. Some analysts, however, think the Fed will opt for a smaller, quarter-point reduction to 1.25 percent.
"I'm torn," Stuart Hoffman, chief economist at PNC Financial Services Group, said about the size of the cut. "Clearly, the economic outlook has weakened," he said.
Whatever the size of the rate cut, commercial banks' prime lending rate for millions of consumer loans would drop by a corresponding amount. The prime rate is now at 4.5 percent and is used to peg home equity loans, certain credit cards and other floating rate loans.
Under either scenario -- a half percentage point or a quarter point cut -- both the Fed's key rate and the prime rate would fall to their lowest in more than four years.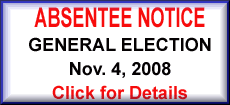 The Fed hopes that lower borrowing costs will entice people and businesses to spend again, which would help revive the economy. The Fed also hopes that other actions to shore up the U.S. financial system -- along with lower rates -- will help get credit flowing more freely again.
The Europeans also are weighing another rate cut.
With a U.S. recession seen as a foregone conclusion, any Fed rate reduction would be aimed at relieving some of the pain.
The Fed probably will hold the door open to additional rate reductions when it acts on Wednesday, economists said. The Fed's last scheduled meeting of the year is Dec. 16.
Many predict the economy contracted in the third quarter by around 0.5 percent when the government reports Thursday on the economy's performance. If that estimate is correct, it would mark the biggest decline in economic activity since the third quarter of 2001, when the country was suffering through its last recession.
Nervous consumers are expected to have cut back sharply in their spending during the third quarter. If that proves correct, it would mark the first drop in consumer spending since late 1991, when the economy was coming out of a recession.