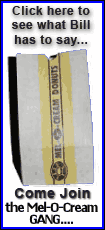 Combined weekday circulation of all 507 papers that reported circulation totals this year and last averaged 38,165,848 in the six months ending in September, 4.6 percent below 40,022,356 a year earlier. The aggregate drop was only 2.6 percent in the September 2007 period, compared with September 2006.
Sunday circulation fell faster than daily -- 4.8 percent, to 43,631,646 at the 571 papers with comparable totals. A year ago, Sunday circulation fell 3.5 percent.
Daily circulation at 16 of the 25 largest papers fell more than 5 percent in the latest period.
Circulation has been dropping at newspapers for decades, a trend sped up by readers shifting to the Internet. Newspapers also have lost advertising in recent years because of the Internet, and that decline accelerated this summer as the weak economy prompted advertisers to pull back on spending.
To boost revenue, many papers also have increased prices, a move that has caused small circulation drops.
This year's sharpening circulation drop also appears to result in part from the way papers are responding to losing ad revenue, said Rick Edmonds, media analyst at the journalism think tank Poynter Institute.
"Times are tough, and they are looking at everything that's in their expense base," he said. "Building new subscribers is an expensive proposition."
Consider The Atlanta Journal-Constitution, where circulation declined 13.6 percent, the largest drop among the 25 largest papers.
The paper increased prices and reduced its distribution footprint by a third to 49 counties. Some of the counties dropped weren't even in Georgia and were more expensive to reach, said Bob Eickhoff, the paper's senior vice president for operations.
The Journal-Constitution also distributed fewer free and cut-rate promotional copies that readers might simply toss, figuring advertisers are more likely to want readers who consciously buy the paper, he said.
Randy Bennett, senior vice president for business development at the Newspaper Association of America, said focusing on core readers is a move by papers to improve value for advertisers.
But Ken Doctor, media analyst with Outsell Inc., said papers have been shrinking their territories for years without seeing such sharp circulation drops.
He blames the acceleration on reduced quality as papers drastically cut staff and other expenses.
"The fact that there are less pages, fewer stories, less familiar bylines, readers are noticing, and that's having an impact," Doctor said. "What is worrisome is the product is getting cut back even more."