United Methodist Men, the YMCA, Lincoln College, the Jaycees and more in Close Up
By Mike Fak
[October 28, 2008] United Methodist Men putting out the pancakes and sausage
United Methodist Men will have a Pancake & Sausage Breakfast on Saturday, November 1st from 7:00 am to Noon in Zollars Hall at the First United Methodist Church - Lincoln. It is an All You Can Eat meal. Tickets for adults $6.00 - Children (under 12) - $3.00.
Proceeds go for United Methodist Men Missions. The United Methodist Women will sponsor a bake sale.
---
Lincoln Parents' Center Stop-N-Play
This YMCA program is offered to parents and their infant, toddler and preschool age children, and is held on most Fridays each month at the Lincoln Area YMCA Activity Center. You can call Lincoln Parents' Center at 735-4192 for more information about this program and a calendar of events.
---

Youth Dodgeball
Score with your kids and sign them up for the YMCA's Youth Dodgeball program beginning on November 1st. This program is for children in 3rd-6th grade. Games will be played on Saturdays from noon until 1:00 P.M. New teams will be formed each week. If your child would like to take part in this exciting new program, please register today at the YMCA!
---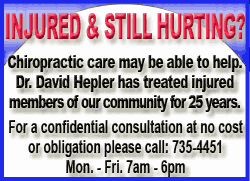 ---

Area Students Initiated into Phi Theta Kappa at Lincoln College
Lincoln, IL - October 27, 2008 - The Iota Chi Chapter of the Phi Theta Kappa Fraternity at Lincoln College inducted 29 new members at its initiation ceremonies during Parents' Weekend activities over the past weekend. Phi Theta Kappa is a junior college academic honor society. For the list of students inducted, click here.
---

Lincoln Jaycees accepting reservations for Senior Feast
Lincoln, IL—10/27/08— The Lincoln Jaycees are now accepting reservations for their annual Senior Feast. The Lincoln Jaycees are serving a free holiday-style meal with dessert on Saturday, November 15th from 11am – 1pm. It will be held at the Masonic Temple located at 2022 N. Kickapoo St. It is available to seniors (age 60 and up). To make a reservation or to inquire about delivery options please call Jennifer Steele at 217-871-7981 as soon as possible.
The Lincoln Jaycees are a not-for-profit organization that services Lincoln and the surrounding communities. The Lincoln Jaycees gives young people between the ages of 18 and 40 the tools they need to build the bridges of success for themselves in the areas of business development, management skills, individual training, community service, and international connections. The Lincoln Jaycees host various community activities such as Easter Egg Hunt, Breakfast with Santa & Angel Tree. The Lincoln Jaycees have a variety of management and fundraising projects such as Lincoln Art & Balloon Festival Vendor, Haunted House, and Lincoln Speedway 50/50.
---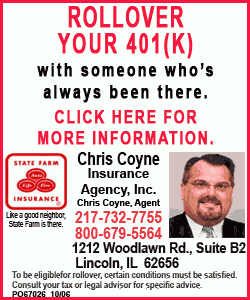 Chamber Business-After-Hours & Customer Appreciation
On Thursday, October 30, 2008, at Courtwright Computer Sales & Service, 1400 Woodlawn Rd., Suite B hosted by Doug DeMay at Eagle One Investment Centers there will be a ribbon cut and fish fry. From 5 to 7 pm. Food and drinks will be provided and it is hoped as many chamber members as possible will stop by for the ribbon cut ceremony at 5:00 pm.
---

Todd Newberry wins award
Former Lincoln resident Todd Newberry, son of Larry and Doodie Newberry of Sherman, is the recipient of the first MAXX Properties Employee of the Year award. Newberry, the Arizona Regional Manager of Maintenance Operations, oversees 2400 units and forty-three employees at ten properties. He also assists other company maintenance teams in Florida, Colorado, and Nevada.
This process began with Todd receiving the Employee of the Quarter award. Nominated by Michelle Bravo-Brown, Florida Regional Manager, she states: "Todd always gives my team 150%" and "he makes us feel that we are the most important part of his job." While in Florida, Todd worked nights and weekends, never complained and was still working daily with his team back in Arizona."
Newberry received his award at the New York corporate office. While there, MAXX Properties treated him to an all expenses paid weekend and a Broadway show.
---
Got a good piece of news, information or something that we can all brag about? If you do e-mail Mike and let us tell everyone about it. Plus you can win cash. Every submission, whether we use it or not, will get your name in the "Close Up" grab bag. At the end of the month we will draw a name and someone will get $25.00 just for dropping us an e-mail. If you wish, we will be happy to donate your winnings to the organization of your choice.
You can contact Mike at mikefak@lincolndailynews.com.
[By MIKE FAK]