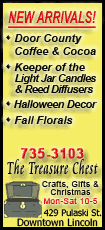 An inspector soon arrived and saw the deer being butchered in the kitchen.
State health laws prohibit butchering an animal inside a restaurant.
Officials don't know whether the deer had been killed by a hunter or a vehicle. They said there was no indication the deer meat was served to any customers.
The message on the restaurant's answering machine Monday says it was closed because of "family emergencies."