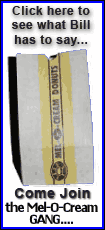 Heavy snow was expected across the Hudson Valley in New York. Maximum temperatures across the Northeast were to range from the 40s to 50s.
The Great Lakes area was to continue to see lake-effect rain and snow showers as cold air flows across the region. Temperatures were expected to remain in the 40s.
Cold temperatures also were anticipated in the South as high pressure triggers clear and dry conditions. The Southeast was expecting temperatures in the 50s to 60s.
Warm and dry conditions were forecast for much of the West.
Temperatures in the Lower 48 states on Monday ranged from a low of 7 degrees at Alliance, Neb., to a high of 98 degrees at Blythe, Calif.
___
On the Net:
Weather Underground: http://www.wunderground.com/
National Weather Service:
http://iwin.nws.noaa.gov/
Intellicast:
http://www.intellicast.com/
[Associated Press article from Weather Underground]
Copyright 2008 The Associated Press. All rights reserved. This material may not be published, broadcast, rewritten or redistributed.