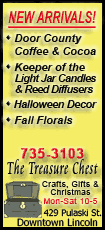 The Philadelphia-based insurer Thursday also lowered its adjusted operating income guidance for 2008 to a range of $3.40 to $3.50 per share. The company said in the second quarter it expected $4.05 to $4.25 per share.
Cigna says net income in the third quarter was $171 million, or 62 cents per share, down from $365 million, or $1.28 per share, a year earlier.
Revenue rose 10 percent to $4.85 billion from $4.41 billion.
Thomson Reuters says analysts expected the company to earn $1.06 per share in the quarter on $4.86 billion in revenue.