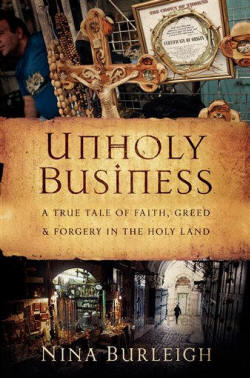 'Unholy Business' spins a good yarn

Send a link to a friend
[October 30, 2008] LONDON (AP) -- "Unholy Business: A True Tale of Faith, Greed, and Forgery in the Holy Land" (Harper, 288 pages, $27.50), by Nina Burleigh: In November 2002, an article in The Biblical Archaeology Review heralded the discovery of an ancient Judean ossuary -- a limestone box intended for the storage of human remains. The story was immediately picked up by CNN, ABC, and many of the world's major newspapers. Media attention of that kind is quite rare in the sleepy precincts of archaeology, but this was no ordinary ossuary. Found in Israel, it appeared to be the earliest known artifact attesting to the existence of Jesus Christ.
An Aramaic inscription on the side of the ossuary stated that it contained the bones of "James, son of Joseph, brother of Jesus," an unmistakable reference to St. James the Just, who is described in Galatians 1:19 as "the Lord's brother." Over the centuries, that phrase has been interpreted to mean many things -- a close follower of Jesus, a stepbrother of Jesus, a cousin of Jesus.
But many denominations of believers, most notably evangelical Protestants, hold that the text from Galatians should be taken to mean exactly what it says and that James was Jesus' full biological brother. The inscription on the newfound ossuary went a long way toward confirming that interpretation. So much so that it seemed plausible to think the bones inside the box might share Jesus' DNA -- a physical link to the biblical past unprecedented in historical significance and sheer emotional force.
Thousands clamored to see the James ossuary when it toured museums in the United States and Canada in 2003. Measuring just 20 inches by 12 inches by 10 inches, this small, oblong stone vessel seems, however, to have contained more secrets than anyone initially supposed.
In July 2003, the ossuary was seized by the Israeli authorities; its owner, a well-known collector named Oded Golan, was later indicted on charges of fraud. The Israeli government alleges that Golan is a swindler and that many of his most important finds, the James ossuary included, are either outright fakes or ancient objects radically altered to enhance their value. For example, although scientific tests confirm that the James ossuary dates back to biblical times, the inscription mentioning Jesus appears, according to expert testimony, to have been added only recently.
In her engaging new book, "Unholy Business: A True Tale of Faith, Greed, and Forgery in the Holy Land," Nina Burleigh, a staff writer for People magazine, narrates the case of the James ossuary in detail and with a zestful sense of adventure. Drawing upon original research and extensive interviews with principal participants, Burleigh illuminates a shadowy network of dealers, looters, forgers and middlemen who have turned the antiquities market into a place where seekers of truth, history and the foundations of faith are often met with fraud.
Burleigh is not the first person to tackle this material. In April 2004, The New Yorker ran a 9,000-word article by David Samuels, covering much the same ground and based on interviews with many of the same people. But while Samuels produced a fine and exacting piece of journalism, Burleigh has exploited much more of the subject's entertainment value, conceiving "Unholy Business," she says, "as an exotic crime story, 'The Maltese Falcon' meets 'Raiders of the Lost Ark' with a little bit of 'The Da Vinci Code' thrown in."