The Transportation Worker Identification Credential system is still down.
Created after the attacks of Sept. 11, 2001, the system is intended to help ensure potential terrorists do not have access to sensitive security areas of U.S. seaports.
The program has faced several problems and delays. Most of the machines that print the cards were malfunctioning earlier this year. In May, officials decided to extend the compliance deadline by six months. The more than $70 million program also has been criticized because of potentially intrusive background checks on the workers and the $132.50 cost of the card, which workers pay.
The Oct. 31 deadline has been pushed back to Dec. 1, according to the Transportation Security Administration, which oversees the program.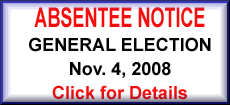 "Acts of God happen," agency spokesman Christopher White said of the problem caused by the power surge. White said the system should be back online by Nov. 10 for those workers that need to meet the Dec. 1 deadline and it will be available at the end of November for the rest of the workers with a later deadline.
Of the approximately 120,000 workers who need to activate their cards, the breakdown only affects 10,477, according to enrollment and activation numbers the agency provided.