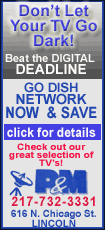 Only a few areas of morning snow showers were lingering in the most northern areas of the Northeast. The rest of the region was seeing decreasing cloud cover as high pressure builds and seasonable temperatures return.
In the South, high pressure will allow for sunny skies and dry conditions across the Mid-Atlantic and Gulf states. Overnight lows will drop to near freezing temperatures.
The Midwest also will enjoy high pressure and highs in the 50s and 60s.
Low pressure was to move through the Plains, bringing windy conditions to the region. It is also expected to trigger some high clouds over the central and southern Plains, but will not produce rain.
To the West, a low pressure system will continue to approach the West Coast from the Pacific Ocean. The system will bring scattered showers and increasing winds to the Pacific Northwest on Thursday. Northern California will see cooler conditions with cloudy skies, while Southern California will remain warm and dry.
Temperatures in the Lower 48 states Wednesday ranged from a low of 8 degrees at Mount Washington, N.H., to a high of 95 degrees at Santee, Calif.
___
On the Net:
Weather Underground: http://www.wunderground.com/
National Weather Service:
http://iwin.nws.noaa.gov/
Intellicast:
http://www.intellicast.com/
[Associated Press article from Weather Underground]
Copyright 2008 The Associated Press. All rights reserved. This material may not be published, broadcast, rewritten or redistributed.