Money winner, park district and YMCA notes, a thank-you to Misty Virgil and more
By Mike Fak
[September 05, 2008] Congratulations to the Humane Society. They are the August Close Up grab bag winner and the Lincoln Daily News will be sending them a check for $25.00 just for telling us all the good news they decided to share with all of us.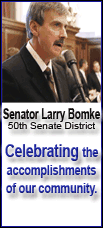 It's Yoga not Yogi
The Lincoln Park District welcomes Diane Meyrick back as their Yoga instructor. Diane's class is offered on Thursday evening at 4:30. Her classes require a small registration fee with a discounted price if you have a membership. The park district invites you to experience the benefits of Yoga.
---

Dance the night away
For the past 39 years the Lincoln Park District has sponsored the "Linpro Dancers" who meet regularly on the first and third Saturday of each month. Couples of all ages are welcome to Square Dance and Round Dance (ballroom steps done to cues). Spectators are welcome to attend. This fun filled activity stimulates the body as well as the mind. Dance instruction is given several times each year. Contact Ron at 217.732.6387 for information about the next dance class. Fun is guaranteed.
---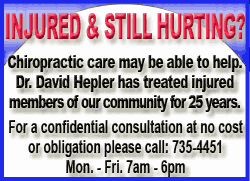 ---

The YMCA is offering two new fitness programs.
There will be four sessions for four weeks each beginning Sept 9th. Everyone 18 and over is invited to boost their energy, learn to dance and have fun doing it!! The programs will be held at the YMCA Activity Center at 719 Wyatt Avenue but you need to register at the Y office at 604 Broadway. Member, Non-member rates apply!
---

Thank you reception for Misty Virgil
Misty Virgil, who has served in a team position with the Rick Hamm State Farm Agency in Lincoln for the last six years, has accepted a position with State Farm Ins. Company at the Rockford Agency Field Office.
Misty's new position, Agency Field Specialist, is a support position for agents and staff in the greater Rockford area. Her duties will include product and sales training, technical and marketing support and education.
Please join the Hamm Team at their office on Friday September 12th from 3 - 5:00 p.m. for a reception to thank Misty for her dedication and service to the agency's customers.
In addition well-wishers will be able to welcome the Hamm agency's newest team member Stacey Pittman of Atlanta, former owner of Buz'n Bean Espresso in Lincoln. Stacey brings a wealth of experience in customer service and State Farm know how to the office.
---
[to top of second column]

Help and assistance for caregivers
On Monday, September 8, Gloria Plummer, Field Coordinator with the Area Agency on Aging for Lincolnland, will be at the Oasis Senior Center, 501 Pulaski, Lincoln, from 11:00 a.m. – 1:00 p.m. to meet with caregivers regarding available services for caregivers and those they are caring for. These services are available for caregivers of older family members and friends or grandparents or other relatives raising the next generation. Gloria is at the Oasis Senior Center on the first Monday of every month. For more information, contact Gloria Plummer at 787-9234 or gplummer@aginglinc.org.
---

Fall festivals everywhere
Just a reminder that there are three festivals in our area this weekend. Atlanta, Mount Pulaski and Kenney will have activities, things to eat and fun to be had so gas the cars and trucks up and make the rounds in Logan County this weekend. Make sure you leave a little room in the old breadbasket for some more great food next weekend when the Railsplitter Festival kicks off at the Logan County Fairgrounds. Either that or you will have to sign up for the Lincoln Park District or YMCA classes to shed those extra pounds.
---
Got a good piece of news, information or something that we can all brag about? If you do, e-mail Mike and let us tell everyone about it. Plus you can win cash. Every submission, whether we use it or not, will get your name in the "Close Up" grab bag. At the end of the month we will draw a name and someone will get $25.00 just for dropping us an e-mail. If you wish, we will be happy to donate your winnings to the organization of your choice.
You can contact Mike at mikefak@lincolndailynews.com.
[By MIKE FAK]