Monday, Sept. 8, noon-6 p.m., at the Lincoln Masonic Center, 2022 N. Kickapoo
This blood drive is sponsored by the Lincoln Rotary.

Friday, Sept. 19, 11 a.m.-3 p.m., at the Logan Correctional Center
(for employees only)
Walk-ins are always welcome, but to schedule an appointment, call Jessica at 1-866-GIVE-BLD (1-866-448-3253), ext. 6814, or sign up online at www.cicbc.org (Sept. 8 appointments; Sept. 19 appointments).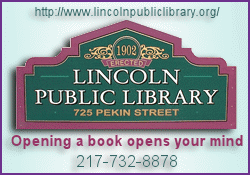 CICBC is the only blood provider to 19 Illinois hospitals, including Abraham Lincoln Memorial Hospital, Memorial Medical Center and Saint John's Hospital. The public is asked to support this lifesaving event.
If you have any questions about donating, call 1-866-GIVE-BLD (1-866-448-3253) or visit www.cicbc.org.
[Text from file received from Central Illinois Community Blood Center]