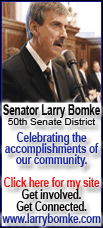 The Railsplitter Festival is this week, so make sure you set aside plenty of time, or perhaps a couple of days, to take in the new improved "old fashioned Railsplitter Festival." This year there will be a great deal more to see and learn about as the festival concentrates on showing us what it was like to live and work in the early pioneering days in Central Illinois. A complete schedule of the festival is on the right hand side of this front page. So check it out and make sure you don't miss your favorite events.
---

Together for Lincoln Seeking Donations
On Sunday, September 28, over a dozen Lincoln churches will come together to accomplish around 70 service projects in the community. These projects range from sprucing up the playgrounds of our city's schools to building wheelchair ramps on the homes of disabled individuals. These projects will be completed by several hundred community volunteers.
While many of the resources needed for these projects have already been either donated or purchased, Together for Lincoln is still in need of financial donations from generous individuals from within our community. 100% of all donations received will go directly to purchase materials for the projects within Lincoln. If you would like to make a donation to help accomplish these projects, please simply bring a check to any State Bank of Lincoln branch and ask for it to be deposited in the "Together for Lincoln" fund.
---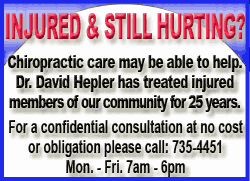 ---

A pumpkin by any other name is still a pumpkin
Gail's Pumpkin Patch, 1709 2000th Avenue, Beason, will be opening Sept
13 to Oct 31, 2008. They are a Central Illinois family pumpkin patch offering over 50 varieties of pumpkins, gourds, and squash, corn, Nate's honey, crafts, kiddie maze, barrel train, and baked goods. A new feature this year is the Abe Lincoln garden of the 1830's. You can find out more information at www.gailspumpkinpatch.com or call 217-447-3409.
---

Lincoln Area YMCA will offer new fitness classes
Hip Hop Dance on Tuesdays from 5:30 to 6:15 p.m. and Turbo Jam Exercise on Thursdays from 5:30 to 6:15 p.m., at the YMCA Activity Center, 719 Wyatt Ave. The classes are scheduled in four-week sessions beginning Sept. 9 through Dec. 18. YMCA member and nonmember rates are offered for each of these programs as well as a discount for registering for both programs. Visit the Y office and pick up a brochure about these new programs.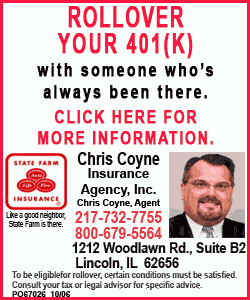 It is Volleyball time at the Park District!
Anyone high school age and up is eligible to participate. Get your friends together for this Co-ed sport. Pick up your roster and get it turned in by September 16. We will play on Tuesday evenings beginning October 7. The fall session will cover approximately 10 weeks. This is a fun and competitive league that offers an awesome workout.
---

Give a pooch or feline a home
Saturday, September 13, 2008 at Ace Hardware the Humane Society is having another adopt-a-thon. If you are looking for a great addition to your family, stop on out and see what great animals are looking for a home just like yours.
The store is located at 521 N. Kickapoo and the hours are from 9:30 a.m. till 11:00 a.m.
---

Parade and activities in New Holland
The public is invited to take the short drive to New Holland for this weekend's parade, free kids' games, activities and prizes.
The event starts at 11:00 a.m. and runs until 4:00 p.m.
---
Got a good piece of news, information or something that we can all brag about? If you do, e-mail Mike and let us tell everyone about it. Plus you can win cash. Every submission, whether we use it or not, will get your name in the "Close Up" grab bag. At the end of the month we will draw a name and someone will get $25.00 just for dropping us an e-mail. If you wish, we will be happy to donate your winnings to the organization of your choice.
You can contact Mike at mikefak@lincolndailynews.com.
[By MIKE FAK]