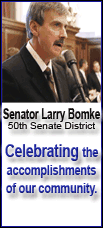 Heartland Community College's Community Education Department will host a class entitled "My First Web Page" at the college's Lincoln Center, 620 Broadway St., Lincoln. The class will meet from 6 to 8 p.m. on Tuesday and Thursday, Sept. 23 and 25, in Room LNC 112.

Class instructor Tricia Campbell will demonstrate how to use free online software to build a simple Web page that can be used to share photos, write about memories or create an informational site for a home-based business.

Cost for the class is $32. For more information or to register for the class, visit www.heartland.edu/communityEd, call (309) 268-8160, or visit Heartland's Lincoln Center in person at 620 Broadway St., Lincoln.
---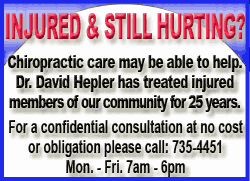 ---

DivorceCare seminar
The Road to Healing" will be the topic when the DivorceCare seminar and support group meets from 7 to 9 p.m. Monday, Sept. 15, at Jefferson Street Christian Church, 1700 N. Jefferson.
DivorceCare is a video seminar series featuring experts on divorce and recovery topics such as coping with depression and anger, financial survival, and single parenting. Each session also includes small-group discussions of the material presented during the video
Second in a series, "The Road to Healing" looks at the losses associated with divorce, the importance of grieving and some initial steps to take to begin the healing process. The video features H. Norman Wright, author of more than 70 books, including "Recovering from the Losses of Life" and "Crisis Counseling." Wright also teaches at Talbot Graduate School of Theology and serves on the executive board of the American Association of Christian Counselors. DivorceCare will meet on Mondays through Nov. 24. Participants may join the group at any time; pre-registration is not required. Cost of the DivorceCare workbook is $12. Child care is available. Call 217-732-9294 for more information.
---

Eagles Lodge helping out
This Saturday the Eagles Lodge at 1621 N. Kickapoo will host a multiple families community sale. There will be numerous household goods, clothing, furniture and much, much more. All proceeds will be donated to Michelle Conrady Brown. The time is from 8:00 a.m. till 3:00 p.m.
---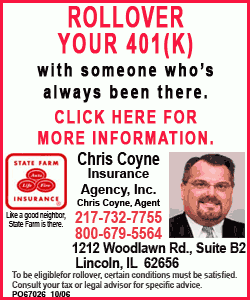 Genealogists will be at Railsplitter Festival
The Logan County Genealogical and Historical Society's September meeting has been forfeited so their members may participate in the Railsplitter festivities. They will be represented at the Railsplitter by having a booth in one of the fairground buildings. Our Cemetery Walk will take place at 10 a.m. - 1 p.m. or 3 p.m. at Old Union Cemetery on Saturday, September 13th. The rain date is September 14th. Tickets are $5.00. Please call 732-3200 for more information.
---

Paintball fun at the Y
The Lincoln Area YMCA has created new programs for both youth and adults. In one of them, youngsters, 11-15 years olds can now participate in a no-impact paintball program that teaches them the basic fundamentals on how paintball markers work. Each child will receive about 500 paintballs to shoot at our high-tech, auto-reset targeting systems from 15, 20 and a whopping 25 yards. They will learn to shoot standing still and while on the move! The class will be held on Saturdays from 9-11a.m. outside at the Y Activity Center on Wyatt Ave beginning September 20th. No equipment is needed for this fun activity. For more information on fees and schedules, or other Lincoln Area YMCA programs call 217-735-3915 or visit our website at www.lincolnymca.org.
---

Culver's teams up with Antique Auto Club
Saturday, September 12th, there will be a Cruise-In at 2530 Woodlawn Road in Lincoln. Culver's and the Antique Auto Club invite everyone out to see these great old-time classics. A special thanks goes out to Collision Concepts and Midwest Record Storage for the use of their parking lots during the event.
---
Got a good piece of news, information or something that we can all brag about? If you do, e-mail Mike and let us tell everyone about it. Plus you can win cash. Every submission, whether we use it or not, will get your name in the "Close Up" grab bag. At the end of the month we will draw a name and someone will get $25.00 just for dropping us an e-mail. If you wish, we will be happy to donate your winnings to the organization of your choice.
You can contact Mike at mikefak@lincolndailynews.com.
[By MIKE FAK]