Railsplitter Festival educational, informative fun

Send a link to a friend
[September 12, 2008] In a way, this weekend's new, improved Railsplitter Festival is a return to the early ones, in the 1970s, with plenty of hands-on experiences.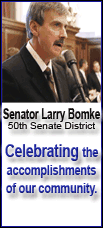 There will be something for everyone to learn and see and get a real sense of how it was during the early days in central Illinois.

There will be lessons on sewing and embroidering as well as weaving, none of which will involve electricity.

You can learn how to make vinegar and apple butter as well as homemade soap. Vegetable drying and how to compost also will be explained.

There will be a smokehouse and washhouse to show how early settlers prepared their meats and how the women toiled to get the stains out of the hunters' clothing.

This year's Railsplitting Festival is a fabulous blend of living and appreciating the present day (the great food concessionaires will remind us of that), but also learning to understand our roots, our heritage and how our ancestors took only what they needed from the land, worked together and helped each other in times of need.

The entire festival is a snapshot of a bygone era when people trusted in God, the land and each other to carve out a hole in the great walnut and oak forests and prairie grasses that covered this area.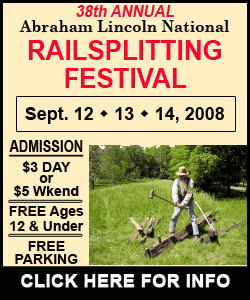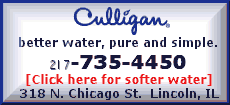 This year there will be at least seven out-of-area craftsmen who will ply their trades, from carving to working crafts to blacksmithing. The pioneer village and primitive lodges will help visitors understand how an early home would have been built and what it would have been like to live some 150 years ago in the middle of the Prairie State.
Inside the main building there will be music, but strummers and pickers and players will also dot the fairgrounds as music will be heard at every corner of the grounds.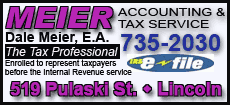 For the little ones, there will be an assortment of animals that they will be able to get up close to. There will also be many games and activities to become involved in, from games we have heard of, like checkers and chess, to things that we might need a little instruction on, such as stick toss, leaf rubbing, spinning tops, and hoops and sticks.
Of course, all of this is in addition to the railsplitting festivities and contests, which include a tomahawk throw and several railsplitting contests, culminating in a national championship railsplitting match at 3:15 p.m. on Sunday.
If you enjoy history or music or great family fun, or you just want to gain a new respect for our ancestors and an appreciation of how hard early settlers had to work to carve out a life, then this year's Railsplitter Festival is a must.
[LDN staff; contributions from Nancy Vannoy, Judy Ballinger and Geoff Ladd]