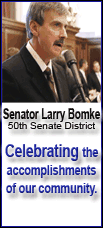 Abraham Lincoln Memorial Hospital is pleased to announce Sherrie Carlin as September Employee of the Month.

Carlin has worked in the Laboratory Department for 2 years. Before coming to ALMH, she worked with the American Red Cross as a phlebotomist and achieved certification.

Carlin's job consists of making rounds on Med/Surg and ICU for blood draws, collecting stat draws for OB, and doing other draws in the Lab. One of her favorite parts of her job is when a patient comes in whose veins are difficult to find and stick. She likes the challenge and the rewarding feeling of making a good stick on a difficult draw.

One of the things that sets Carlin apart in her job is her daily schedule. She begins her workday at 4 a.m., and her first responsibility is to make all lab draws necessary for inpatients. She said one of her greatest achievements is surviving her 4 a.m. rounds.

"Sherrie always has a pleasant smile and personality," said Carlin's nominator. "Her 'GREAT' customer service helps patients during times that may not be so good for them personally. It is clear to patients, as well as her co-workers, that she is very dedicated to her work and to ALMH."

ALMH employs more than 290 in a wide variety of job functions. A different employee is honored each month for their commitment to creating GREAT patient experiences, getting GREAT results, and making ALMH a GREAT place to work.
---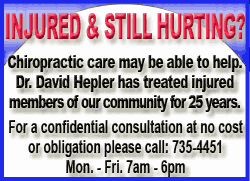 ---
YMCA party coming up
The new school year has begun and so begins Y Party Nite. Gather your 2nd – 4th grade children and join us Friday, September 19th from 7 – 9 p.m. for our "Sports" theme party. Party goers will enjoy pizza and snacks, play games and contests, win prizes and just plain have fun. Parents you can get an evening free of boredom for $13 for Y members and $15 for non-Y members. Space is limited so register your child today or risk missing out on a fun and exciting nite!
The office is at 604 Broadway and the number is 735-3915.
---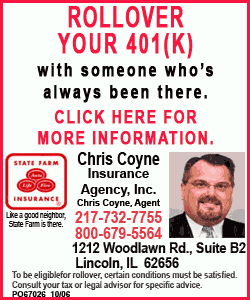 Youth Paintball
Splat! Starting Saturday, September 20th, this is just one of the things you will hear. This challenging, no-impact program will teach participants the basic fundamentals of paintball marks with advancement into target shooting at various distances. Each participant will receive about 500 paintballs with equipment being provided by the YMCA. This program will be held at the Y Activity Center at 721 Wyatt Ave. for kids ages 11 – 15 years. Safety is our highest priority. Space is limited so signup today! The office is at 604 Broadway and the number is 735-3915.
---
Abraham Lincoln Disabled Children's Fundraiser Saturday
11:00 am Registration for Golf at Elks Country Club. The registration for the Marble Run is across from Lincoln Depot, corner of Chicago St. & Pekin St.
Noon Marble Runs begins
12:30 pm Golf Scramble Tee off
6:00 Food and Beverage sales begin till 10 p.m.
7:30 50/50 Drawing
8:00 Doghouse Band starts and plays till midnight
---
Elkhart Festival this Saturday.
Events: Book and bake sale at the library starting at 9 a.m. During the day there will be cemetery and chapel tours conducted by the Elkhart Historical Society, antique tractor and engine show, Hope Mobile and a farmer's market featuring fresh farm produce and baked goods. There will be a flea and craft market, town-wide garage sale, food vendors, Springfield Thunderbird Car Club Show and 50/50 Raffle and so much more. Music will be played throughout the day featuring Jay and Pat Landers.

Got a good piece of news, information or something that we can all brag about? If you do, e-mail Mike and let us tell everyone about it. Plus you can win cash. Every submission, whether we use it or not, will get your name in the "Close Up" grab bag. At the end of the month we will draw a name and someone will get $25.00 just for dropping us an e-mail. If you wish, we will be happy to donate your winnings to the organization of your choice. You can contact Mike at mikefak@lincolndailynews.com.
[By MIKE FAK]