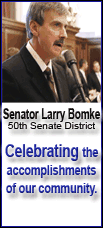 A golf outing sponsored by the Harvest of Talents for World Hunger will be Sunday, Sept 21 at the North Greens Golf Course in Atlanta. The public is invited to participate. The tournament will be a best ball format and is open to all ages. Fee includes a donation to the Harvest of Talents and covers cart, greens fees, lunch and homemade pie. There will be door prizes. Help celebrate the 25th anniversary of the Harvest of Talents with your participation. Sign up a team now. You can find out more information by calling 217-648-5500.
---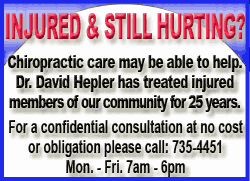 ---

Musical presentation
The Harvest of Talents for World Hunger invites the public to a live vocal and instrumental music at the Lincoln Christian Church at 204 N. McLean St. in Lincoln on Sunday, Sept. 21 starting at 2 p.m. All offerings will go to world hunger relief. The church is handicapped accessible and has free parking.
---

Heartland Community offers ACT review course
This course offers everything you need to succeed on the exam. You will use practice exams to learn about the different types of questions and best strategies for successfully answering them. The workshops consist of six two-hour sessions which include discussions of test taking strategies and reviews of English, math, reading and science reasoning skills. Please register for the ACT exam through your high school guidance counselor's office or at www.act.org.
The class schedule is Tue/Thu (6 sessions), 10/7-10/23, 6-8PM.
---

Plenty happening at the Lincoln Library
Wednesdays, Sept. 24-Oct. 29 the library is having a craft class. Children ages 8-12 years old are invited to participate but you must pre-register two weeks prior to each class so call today and don't miss out. The class will be between 3:30 – 4:15 p.m. Call 732-5732 for further details.
---

Story time at the library
On Tuesdays and Wednesdays from Sept. 23 – Nov. 5 children ages 6 months to 7 through 7 years old can attend a story time at the Library annex building. The times are dependent on age so call the library at 732-5732 for more information.
---

3rd Annual Y Run
Join the YMCA for a morning of fun and fitness as we host our 3rd Annual Y Run on Saturday, September 27th. The Lincoln Area YMCA in conjunction with 17 other Illinois Y's is observing the Illinois State Alliance of YMCA's State-Wide Walk with various running and walking events being held around Illinois on September 27th. The local Y will hold both a 5K Run and 1 Mile Fun Run/Walk for all in the community who would like to participate. Awards will be given to the top male and female in each age category, as well as the top male and female finishers. Y Run shirts will also be provided to the first 50 registrants. Proceeds from the Y Run will go toward the Lincoln Area YMCA Scholarship Fund, which helps local families who could not otherwise afford YMCA programming. So come out on the 27th for a great cause and a good time!
---

Blood drive in Atlanta
North Greens Golf Course will be holding a blood drive for the American Red Cross on Wednesday September 24th from 2pm-6pm. If you are interested in donating please call the clubhouse 217-648-5500 to set up an appointment. Walk-ins will also be accepted if you do not wish to set up an appointment.
---

Enjoy good eats and help our animal friends
The Humane Society will be having a bake sale/cookout this Sat Sept. 20 at Kroger from 9a-2p.
Stop on out and meet the fine folks who are working hard to save our four-legged friends.
---
Got a good piece of news, information or something that we can all brag about? If you do, e-mail Mike and let us tell everyone about it. Plus you can win cash. Every submission, whether we use it or not, will get your name in the "Close Up" grab bag. At the end of the month we will draw a name and someone will get $25.00 just for dropping us an e-mail. If you wish, we will be happy to donate your winnings to the organization of your choice.
You can contact Mike at mikefak@lincolndailynews.com.
[By MIKE FAK]