Park district notes
From Roy Logan, program coordinator

Send a link to a friend
[September 26, 2008] Mike Bieser, professional dog trainer and owner of Canine Training Institute, will be the Lincoln Park District's instructor for dog obedience. Group sessions will begin on Oct. 12 from 1:30 to 2:30 p.m. in the ballroom and continue for four weeks. The basics of "sit," "stay," "heel" and walking on a leash will be covered. You will need a good dog collar and a 6-foot non-retractable leash. Bieser will teach you how to give commands to your dog using the leash. Please preregister and provide proof of inoculations at the time of registration. More information is available at www.lincolnparkdistrict.com in the "Programs" section.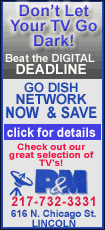 Fit for Seniors is an exercise class designed totally for the senior citizen. We began this class earlier this year, and our only problem was we weren't offering if often enough. So we've listened to our loyal and dedicated attendees and have added one more day per week. Join us at 9:45 a.m. Monday, Wednesday and Friday as Jacki Pavlik puts you through your paces. She will help you focus on increasing mobility, flexibility, balance and muscular strength. As with our other spin and group exercise, this class is included in a circuit or full-access membership.

As fall approaches and days become shorter, many of us move our workouts indoors. We offer a year-round discount to seniors to come out and use our walking track. For just $1 per visit, walk our courts for as long as you want. When we get a further into fall, I'll be making coffee and offering home-baked muffins while we visit and have a nurse available to check your blood pressure.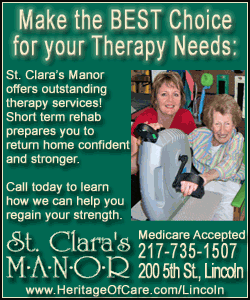 If you are interested in checking out our membership fees or aerobics schedule, call us at 732-8770 or check online at www.lincolnparkdistrict.com. Go to the "Facilities & Parks" page, scroll down, and click on "Aerobics Schedule" or "Sports Center Membership Fees."
Registration for Junior Railers, a basketball league for boys, will begin in October. More information will be forthcoming.
Trick or treat! That's right, folks. It won't be long until ghosts and goblins will be looking for a howling good time. We are partnering with Maple Ridge Care Centre to offer you two fun events on one night. Save Oct. 30 on your calendars for the annual Halloween FunFest.
[Text from file received from Roy Logan, Lincoln Park District]