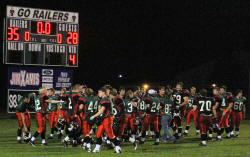 Railers win homecoming game 35-28 over Springfield Southeast

Send a link to a friend
[September 27, 2008] Kyle Young has been one busy guy lately.
First, it was announced that the LCHS senior was elected homecoming king at school on Friday.
Later that afternoon, Young rode with homecoming queen Emily Berglin in the homecoming parade.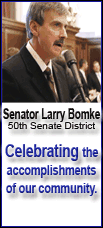 While that would make homecoming memorable for most students, Young capped off the day by intercepting a pass in the final minute of Lincoln's homecoming football game. In doing so, he preserved the Railer football team's 35-28 victory over Springfield Southeast on Friday night at Handlin Field.


While Young's late-game heroics sealed the first win in five games this season for LCHS, several Railers made key plays in a game which Lincoln never trailed but which was close throughout. Earlier in the fourth quarter prior to Young's heroics, Southeast scored to pull to within seven points with 8:45 to play.


After the Railers lost the ensuing possession on downs, the Spartans had the ball at Lincoln's 36 yard line with less than four minutes remaining. Southeast appeared poised to move the ball downfield when LCHS junior linebacker Reuben Bowlby intercepted a pass to halt the Spartans' drive. But Lincoln couldn't move the ball and punted it back to the Spartans, setting the stage for Young's game-clinching interception on Southeast's next offensive series.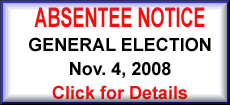 Earlier in the game after Southeast tied the contest at 14-14 in the second quarter, Lincoln senior running back Blair Bruns scored on a two-yard run with 33.1 seconds left. The extra point by George Kennett gave the Railers a 21-14 advantage, but the Spartans took the following kickoff and pushed the ball downfield.
Southeast moved the ball into Railer territory, but LCHS senior defensive back Kyle Frick picked off an errant Southeast pass to preserve the Railers' lead at halftime.
The Spartans went four-and-out on their first possession of the second half, and Lincoln responded with a 47-yard scoring drive. Wes Neece scampered 30 yards for the touchdown and Kennett hit the extra point to give the Railers a 28-14 lead.
The Railers will try for their second win of the season October 3 at Chatham
Glenwood.
[Photo and story by Loyd Kirby]
(click on picture for larger image)