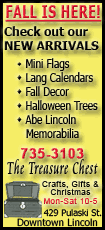 Last week a truck transporting a huge wind turbine got lost while passing through Lincoln. The turbines are being constructed in Clinton. Road construction on Route 51 has forced the trucks to travel Route 10 through Lincoln to get to Interstate 55. (See archived picture.)

Not only does it take a lot of time to maneuver the extra-large structures, but weight is a significant factor as well. They are believed to weigh in excess of 140,000 pounds. State route roadways are constructed to handle truck traffic. City streets are not.

The overweight, over-length shipments are special-permitted through the Illinois Department of Transportation to follow specific routes.

When the truck got off course, it took a much longer time to get through town, snarling traffic, creating safety hazards, threatening the roadway strength and possibly the sewers.
Lincoln Police Chief Stuart Erlenbush said that he would like to contact the turbine company and schedule an escort for the trucks as they pass through Lincoln. He would need to hire an extra officer to provide that service and would pass the cost on to the company. "It would cost them about $100. That's probably a lot better than $20,000 (the fine imposed by the state) for getting off on the wrong street," he said.
City attorney Bill Bates lightly responded:
I don't know any specific provision that gives us the authority to do that, Chief.
But, I don't know any particular provision that says we can't.
So ... I'm going to say we can't.
During a discussion of the routes and needs, Lincoln street superintendent Tracy Jackson said that the truck that ended up on College Street was 180,000 pounds. This created a big stir and gasps from the aldermen and department heads. "Oh my," one person said.
Forty-two trucks are expected to transit through Lincoln; of this number about eight to 10 are believed to have come through so far.
Jackson added that the trucks are turning off at Atlanta, which has more road access to the county, and they are going to the north end of the county.
Later, Lincoln Daily News called Jackson for additional details. He said that the maximum road weight limit on city streets is 36 tons.
Truck limits are set as follows:
Single axle: 9 tons -- 18,000 pounds

Tandem axle: 16 tons -- 32,000 pounds
Semitrailers can drive one mile off any state route through Lincoln to make a delivery.
The truck that got off on College Street was 106,000 pounds over that street's limit.
As the meeting continued, Erlenbush suggested, "It seems to me that we ought to do something proactively."
It was agreed that it would be in everyone's best interest to check with IDOT and to speak with the company about coordinating with police, or possibly some other department, such as fire, to escort the trucks through town.
"If they're permitted by IDOT, we can't force them to make a schedule. But, clearly it is in their best interest to try to avoid another instance like that. So as long as you are persuasive, I think you may have done it," Bates said.
Everyone chuckled as Erlenbush responded in a low, soft voice, "I'll try to use my charms."
[By JAN YOUNGQUIST]
Also discussed during the meeting were sewer backup issues. See article: Giant rains cause big headaches for city and homeowners